Famous!
Mr Pitbull
Welcome!
Check Out Our
Pitbull Puppies
Mr Pitbull
is the way to go!
Expert
Advice!
Secrets of the top Kennels.
Pitbull care and Info.
MR PITBULL WOULD LIKE TO WELCOME ALL CALIFORNIA PITBULL LOVERS!
We want to welcome all you in the great state of California and Thank you for visiting mrpitbull.com! Mr PitBull kennels produces the best quality PitBulls Terriers found anywhere. Our kennel is renowned by many in California as having some of the finest dogs in the world. There is good reason why the name "Mr Pitbull" is regarded with esteem.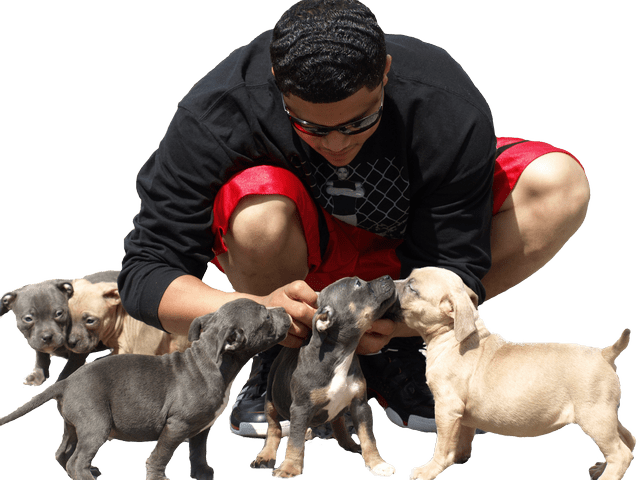 California Blue
Pitbulls
From San Diego, Ventura, Santa Barbara and Monterey too, towards northern California down to the San Francisco Bay, if you reside in Oakland, Santa Ana, and San Jose; Mr Pitbull has a Pit Bull for you.
For the millions of distinguished California pitbull owners who truly discern, the American PitBull Terrier is the epitome of love they have learned. So whether you are new to our breed or have loved us before, Mr Pitbull you will want to explore!
CLICK PICTURES TO ENLARGE 🔍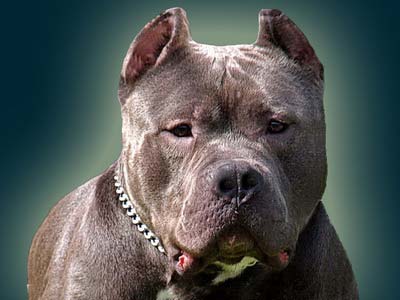 RAZOR'S EDGE
Mr PitBull kennels represent the highest quality Blue Pitbulls in Southern California. Our puppies come from top bloodlines. If you are looking for RAZORS EDGE or GOTTI, we've got you covered. We have some of the top Blue Pitbulls in the world. I truly believe that if you are looking for a puppy you will not find a better kennel anywhere.
MOST POPULAR BREED
Perhaps in no State are Pitbulls more popular than in California. "Whether you are from Southern California near the Mexico border, or from places further north in a land without order, need I remind you; Mr Pitbull is the place you can place your order." What is interesting is the variety that are available in California, and the fact that different area's of the State prefer one bloodline over another. I suppose the same can be said of California's sports teams. Just as those in San Diego cheer for the Padres and those in San Fransisco cheer for the the Giants, Californians tend to prefer their Pitbulls by their bloodlines. To the south; Gottiline is King. To the North; Razor's Edge are the breed of choice.
CLICK PICTURES TO ENLARGE 🔍
SO YOU WANT TO BE A BREEDER DO YA
Being a successful breeder in California isn't easy. The competition is fierce. Everyone and his brother believes he is a breeder. Sadly, most are unqualifed, and the results are often less than spectacular. A good breeder is careful not to get caught up in passing fads and in breeding practices that denigrate the reputation of the breed. On my website you will find lots of information on how to build a successful kennel operation. Even if you only plan on having one dog, learn from me how to get the most out of him or her. No matter what bloodline your prefer, you want the best quality puppy you can find. You will find what you are looking for here.
CLICK PICTURES TO ENLARGE 🔍
BRINGING YOU THE BEST
A long time ago someone told me something that has stuck with me, they said: "Good things are seldom cheap and cheap things are seldom good." I have taken that to heart. Therefore if you are looking for a Pitbull kennel that has pitbull puppies for sale, cheap; you will not find them here. Mr PitBull kennels are stocked with Purple Ribbon Pits, all champion quality. No expense has been spared in assembling the top of the line Bully bred dogs.
CONSIDER YOUR REQUIREMENTS
I recommend that you take the time to carefully examine each dog in our Kennel. Look closely at the pictures and then imagine what your Puppy will look like. THE TEMPERAMENT OF THE BREED is legendary, yet each dog varies in personality; so we encourage you to consider your requirements when choosing one of our puppies. Let me know those requirements and I will help you pick the right dog.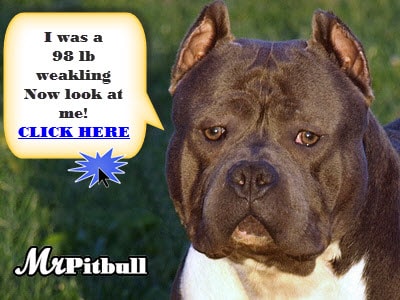 CLICK PICTURES TO ENLARGE 🔍
CALIFORNIA IS THE PLACE TO BE
When I consider the advantages of having a Kennel in California, I am reminded of what a good ole' boy once said; The kinfolk said "Jed move away from there" Said "Californy is the place you ought to be..." Just as any self respecting Millionaire who wants to make a name for himself, knows that California is "the place," so it goes for Pitbull Kennels. Let's consider some of the advantages of owning a Kennel in California. Read on...
CLICK PICTURES TO ENLARGE 🔍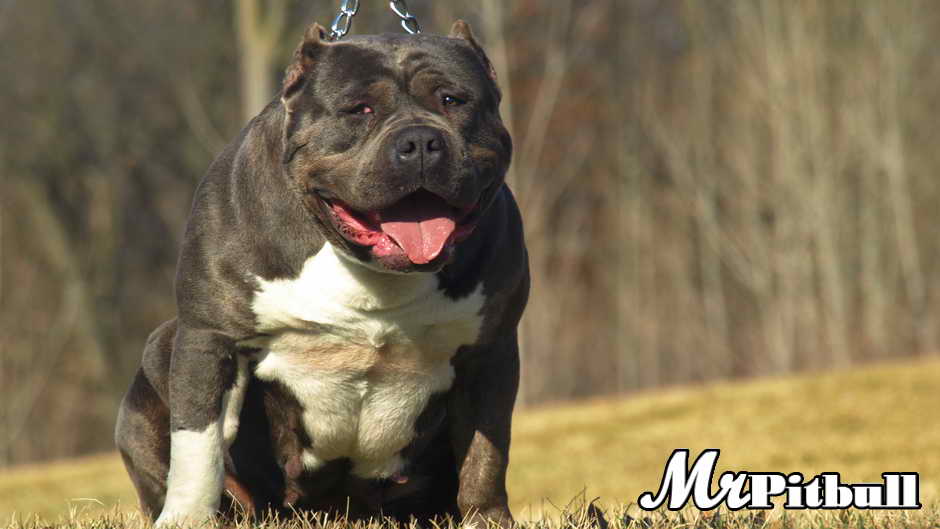 THE ADVANTAGE OF CALIFORNIA KENNEL
There is perhaps more Pitbulls in California than in any other State, perhaps by far. This gives California Kennels a decided advantage over Kennels from other States. To produce the best quality dogs, a Kennel owner has to do a lot of searching for the right dogs to use in his or her breeding program. A lot of work goes into driving dogs half way around the country to do a well planned breeding. If your Kennel is in Montana (no disrespect intended), there may not be a worthwhile candidate in the entire State. However if your Kennel is in California, there is going to be dozens of excellent choices within a hour or two of most locations. Believe me, this makes breeding a whole lot easier. Of course, you could simply order a puppy or two from me: CHECK TO SEE IF ANY PUPPIES ARE AVAILABLE!
CLICK PICTURES TO ENLARGE 🔍
CALIFORNIA KENNELS AND LOCAL BREEDERS
In areas where a suitable Stud is not available, some resort to having "Straws" or semen shipped frozen or chilled. But know this; such is a risky proposition. First, you have to trust that someone you may have never met, is able to handle the sample properly and ship in a timely manner. Too, the quality of the semen is not the same as fresh. When you have been waiting for six months or a year or more, you want to be sure that the breeding is successful. Bringing the two parties together gives you the best chance. When I do a breeding, even with both dogs on site, I always breed them by "AI." But that is another subject. For tips on becoming a successful breeder you will want to read this page: "BECOME A SUCCESSFUL PITBULL BREEDER"!
CLICK PICTURES TO ENLARGE 🔍
ANOTHER ADVANTAGE OF KENNELS IN CALIFORNIA
A nice advantage of having your kennel in California is; all of the dog shows. There are more Dog shows in California than anywhere else. If you are fortunate enough to have a kennel in Southern California, you are able to attend a ABKC or similar a dog show about every weekend. This allows a good breeder to see a lot of the best dogs all at once in one place. This is very helpful in comparing one dog to another. I have to admit that I have seen dogs that I thought were top notch, but once I saw them again, alongside other dogs, they were less impressive. Too, you are able to show your dogs. If you have done your homework and are producing the quality of dog you think you are, you will have the chance to prove it. Start winning some titles and the value of your Kennel increases. Thank you California! "HOW TO START A PITBULL KENNEL"!
CLICK PICTURES TO ENLARGE 🔍
PROTECT YOUR DOG FROM HEAT STROKE
Regardless of which bloodline you are drawn to, you will want to pay close attention to what I relate next. If you live in California, and in particular Southern California, you will want to make sure your dog has been properly bred for the warm climate of California. Take a look at the picture of Blue Remy above. The fact that his mouth is hanging open and that I have shorts on, indicates it must have been hot the day this picture was taken. Of interest; much of a dogs ability to cool down takes place through the muzzle. The longer the Muzzle, the better a dog can cool down. That is why you don't want to breed too short a muzzle. Unlike you and I, dogs do not sweat, and therefore can quickly overheat in the hot Californian Sun. When you see a dog panting, he is endeavoring to cool down. Knowing what I know about heat stroke, I would personally avoid like the plague any dog with a short muzzle. Before purchasing a dog, make sure you read my article on HEAT STROKE: PROTECT YOUR BLUE NOSE PITBULL FROM HEAT STROKE