Famous!
Mr Pitbull
Welcome!
Check Out Our
Pitbull Puppies
Mr Pitbull
is the way to go!
Expert
Advice!
Secrets of the top Kennels.
Pitbull care and Info.
CLICK PICTURES TO ENLARGE 🔍
PITBULL BREEDING INFORMATION
Learn how to become a successful dog breeder. Learn the common mistakes that many amateurs make; and avoid them.

Hardly a day goes by that I don't receive some kind of question concerning breeding dogs. Seems like everyone who owns a Pit Bull feels that their dog must be bred.

I've tried it all. I'll tell you what works, and what will bring you to tears.
NOT AS EASY AS IT SEEMS
In the eyes of many, Pit Bull Breeding is a fast and easy way to make a buck. I can assure you that making money breeding Pit Bulls is next to impossible (don't mean to burst your bubble). In any event, I have done many breedings and I'm happy to share my expertise with you.

All content on MrPitbull is based on my personal experience and penned by my own hand! I would like to personally thank you for visiting Mr Pitbull and I hope that the information provided is helpful to you and your Pit Bull friend.
REAL EMAILS
Below you will find real questions that I have received by way of email. Some of them may sound far fetched, yet I assure you, everyone of them is real, and more importantly commonly asked. Of course, "the names have been changed to protect the innocent".
Anton from Savannah, Georgia asks:
Dear Mr Pitbull, I just love these dogs and would like to start a kennel, and was wondering what advice you have? What tips can you share with me?
CLICK PICTURES TO ENLARGE 🔍
KEEPING DOGS HEALTHY IS A BREEDERS BIGGEST CHALLENGE
Hey Anton, I can't blame you for wanting to make a career with these beautiful animals.
The most difficult part of being a breeder, is keeping the dogs healthy. I have a lot of good advice in my health section. There you can learn from some of the mistakes I made.
HUGE MISTAKE I MADE
Avoid what happened to me and you will be on the right track.
THE DOGS MUST BE WINNERS
Just as important as keeping your dogs healthy is this piece of advice: You can't expect to win if your dogs are not winners. If you are serious about getting into breeding give thought to this quote by Kenny Rodgers:
You got to know when to hold 'em, know when to fold 'em, know when to walk away, know when to run.
Breeding dogs is like gambling; very few are able to make a success of it. Too many don't know enough to recognize when they are playing with a bad hand. Meditate on these lyrics and then look at the hand you are playing with and ask yourself how many ACES are you holding.
Said, "If you're gonna play the game, boy, ya gotta learn to play it right. You got to know when to hold 'em, know when to fold 'em, Know when to walk away and know when to run. You never count your money when you're sittin' at the table. There'll be time enough for countin' when the dealin's done. Ev'ry gambler knows that the secret to survivin' Is knowin' what to throw away and knowing what to keep...
What is interesting is that when dealing out a hand in this game, you get to see your cards before they are dealt; so pick the right ones! And if you really want to know, ask me to give you an honest evaluation.
DON'T BE AFRAID TO CUT YOUR LOSSES
On numerous occasions I will either buy a puppy from a breeding that I thought had potential, or keep a puppy from one of my own breedings. Yet once they begin to mature, it becomes apparent to me that the dog does not have the qualities needed to become a breeder in my program. Often times I am very attached to the dog, but have to make the tough choice to exclude it and move on. You have to know when the dog is not a winner and cut your losses. If you don't, your program is doomed.
Jen from Bethel Park, Pennsylvania asks:
Dear Mr Pitbull, Do you guys buy Dogs to breed? We have a huge litter of puppies and are having a hard time selling them. They are approaching 5 months of age and we can no longer afford to feed them. Can you help us?
DON'T GET STUCK WITH A LITTER OF PUPPIES YOU CAN'T SELL
Sorry to hear of your plight Jen. Unfortunately, selling puppies is not as easy and as profitable as many would like to think. The fact is, you are not the only one with the thought of cashing in by breeding their dog.
Sadly, this has resulted in a glut of
UNSOLD PUPPIES
. For this reason many rescues and shelters are overflowing with unwanted pets. Unless your Dog is of championship caliber, having them spayed or neutered is generally the smart choice.
SOMETIMES YOU CAN'T GIVE PUPPIES AWAY
Jen, I can't begin to tell you how many times people have asked me to take their litter, many times offering them for free. In many of these cases the litter was ill-conceived from the start. The parents simply were not of breeding quality.

The same story is often repeated; "I had all of the puppies spoken for ahead of time. When it came time to pick up their puppy, one after another had a reason why they had to back out."

Once the puppies hit 10 or 12 weeks, and you still have them, it is past time to give them away.
Jamie from New York, New York asks:
Dear Mr Pitbull, I have a Blue Nose Pit Bull and I would really like to breed her, but I literally found her and her brother on the side of the road. I was wondering if I send you a couple of pictures if you might be able to help me distinguish what type of Pit Bull they are? I'm stuck between American and Razor, but leaning more towards Razor. Please e-mail me and let me know.
CLICK PICTURES TO ENLARGE 🔍
IF DOGS ARE NOT REGISTERED DON'T EVEN THINK ABOUT BREEDING
Jamie, I would love to see pictures of the two of them. I don't know if I would be able to say what line they are for sure, but I can give you an idea, and would be happy too. It may be, if they are
RAZOR'S EDGE
that a reward is posted for their return.
You may want to check with the local shelters. If they are registered, and depending on their pedigree, they may have great value to the one holding the paper. Without the paper, there is no value in breeding Pit Bulls other than being a loving pet.
ONLY A MORON WOULD BREED A DOG WITHOUT PAPERS
As far as breeding her goes; without papers the puppies would not be worth very much, if anything. There are countless Pit Bulls in shelters. Sadly many will be euthanized.PITBULLS IN SHELTERS Sadly there simply are not enough homes for unregistered Dogs. I don't mean to be blunt; but, you would be doing the breed a disservice by breeding them.


BREEDING DOGS CAN BE EXPENSIVE
Are you prepared for the expenses that could ensue? I recently lost a dog and all the pups due to complications during delivery. The vet bill was nearly a thousand dollars (and would have been a lot more had I not done so much business with this clinic).

If in fact they are Razor's Edge or GOTTI PITBULLS, or one of the other top Pit Bull bloodlines, you can almost count on some problems during pregnancy and delivery. Due to the head size of the pups, many females have a hard time delivering naturally. For this reason I know some breeders that schedule a C-section for all deliveries.
DOG BREEDING IS NOT A FAST WAY TO RICHES
For most people, breeding dogs is a very costly endeavor. I wholeheartedly tell all who ask "DON'T DO IT!". Of course, no one listens. In any event, I will give you the info you need so at least you can make a run at becoming a top dog breeder.
Ben from Richmond Virginia asks:
Dear Mr Pitbull, Hi my name is Ben and I would like to talk to you about using Bartender with my girl Chia. Chia is an incredible looking pitbull female and will be going into heat soon. She will be turning 12 months in a few weeks and I would like to arrange to breed her to Bartender. I do not have papers for her but I think she is either a Razor Edge or a Colby from what some have said. I have included her picture for you to see. Please respond as soon as possible as she could go into heat at anytime.
CLICK PICTURES TO ENLARGE 🔍
BREEDING YOUR DOG TO EARLY WILL RESULT IN INJURY
Ben, Thanks for considering Bartender. When I told him of your offer he was grinning from ear to ear. Then I told him her age, and that smile quickly turned into a frown and he mumbled (if I heard him correctly) "Jail bait"!

I said "what's wrong with that" and he said "would you let your 10 year old daughter marry"? It was then that I understood clearly; a 12 month old dog may be physically able to conceive as some 10 year girls are, but yet 12 months is way too young to breed a dog. Experts are united on this issue (and experts normally disagree on most issues), a female pitbull should not be bred until she is two years old.
BREEDING TOO YOUNG CAUSES MEDICAL ISSUES
Too, at that age your dog is liable to sustain life threatening injuries while carrying the pups and giving birth. Are you prepared to spend several thousand dollars at the vet in the event of complications? And if you think that complications rarely happen and you are willing to roll the dice, you couldn't be more mistaken. Bully breed dogs have lots of complications, I know as I have had three dogs in for C-sections in one year alone.

Frankly, anyone who breeds dogs at 12 months of age is unprincipled and does not care about the dog; only trying to make a quick buck at the pet's expense.
I BELIEVE IT WAS TOM CRUISE WHO SAID "YOU CAN'T HANDLE THE TRUTH"!
Additionally, you mentioned that the PEDIGREE of the dog was uncertain. And although she is a beautiful looking girl from what I can see in the pictures that you sent, she is not of breeding quality, as few dogs are. And without papers such dogs should not be bred under any circumstance.

Do yourself, your dog and the community a favor and have her spayed. If you love your dog, you will do that, as there really is nothing to be gained by breeding her. Sorry, this is the truth. And if I am being blunt, it is only because this is an issue I am passionate about.
SUCCESSFUL BREEDERS LOVE THE BREED
If you really want to get into breeding dogs, it should first be because of your love for the pitbull breed. If you love the breed, you of course will demonstrate it by only breeding dogs that are of proper age. If you are wanting to breed in the hopes of cashing in on a few quick dollars, email me back and I will show you my vet bills.
Raymond from Defiance Ohio asks:
Hi my name is Raymond, I'm 17 I stay in Defiance, Ohio and I want to be a Pitbull Breeder, and I don't know how to get started and I been looking at your page and I want to know if u can give me some ways that is a good start?
CLICK PICTURES TO ENLARGE 🔍
HOW TO GET STARTED IN DOG BREEDING
Raymond, Thanks for writing Mr Pitbull, I am happy you thought enough of my site to seek out advice. Currently there are 10's of thousands of people breeding Pitbulls. This has resulted in a serious over breeding of dogs and the
DOG SHELTERS
are full of unsold dogs.
Additionally, out of the many thousands who get into this thinking they will make money, I bet I could count on two hands the number who actually turn a profit. For most, breeding dogs ends up costing a lot of money.
BUY THE BEST DOGS FROM THE TOP DOG BREEDERS
So, if you are wanting to get into breeding thinking you are going to make money; forget it! But if you read this and are going to do it anyway... Save your money and buy the best quality female you can find. Plan on spending at least three thousand. Do your homework, learn the pedigrees, and buy a puppy off of the most nationally known dog you can find. Buying a dog from someone down the street will not get you the stock needed to produce winners.
LEARN WHAT GOOD CONFORMATION IS
Learn what good conformation is and make sure you buy dogs that have perfect structure. Do not compromise! Do not, because you are short on money, start off with anything that is not the very best. Doing so will doom you to failure. Read everything on my site. I explain what to look for and what you don't want. Concentrate on my where I point out what to look for. Enroll your parents in the project. They can help guide you with the advice given here. PITBULL PICTURE ALBUM
DRIVE TO EVERY KENNEL WITHIN 4 HOURS OF YOU
You can use all the information you can find. Go to every dog kennel within a four hour drive of your location. There are a lot in your area. If there are twenty dog kennels, figure one, maybe two; actually have a clue, if you are fortunate. See if they will mentor you and provide you with the information you need to be successful. Establish a relationship with them by volunteering to help in the kennel.
LEARN AT SOMEONE ELSES EXPENSE
Learn first hand at someone else's expense. When they get ready to go to a show, volunteer to go with them to help handle the dogs and share in the expenses. Of course, this is just the beginning of your efforts to learn about dog breeding.

Along the way you are going to learn that not everything goes as planned. You will learn that food bills pile up quickly. You will learn that keeping dogs healthy is a challenge that comes at a considerable expense. You will note that a good dog breeder has several thousand dollars set aside in case of a medical emergency. There is a lot that has to be learned before beginning if you want to do dog breeding in a responsible way.
Kendrick from Bakersfield, California asks:
Dear Mr Pitbull, I just picked up a new pitbull puppy she is 10 weeks old and she is 50% Greyline, 25% Mikeland and 25% Remyline. Do you think she will produce nice pups and how much can I get for them?
CLICK PICTURES TO ENLARGE 🔍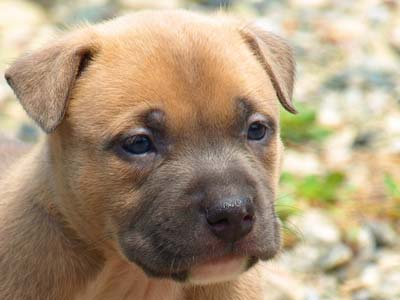 VERY FEW REGISTERED DOGS ARE WORTHY OF BREEDING
Kendrick, Thanks for writing Mr Pitbull Congratulations on your new addition! I bet she is adorable. Certainly her blood has the potential to create nice pups, yet a lot more is involved.

For instance, a litter of 10 pups all have the same blood, yet may have only one pup that is of breeding quality. On occasion it will only become apparent as the pup matures into adulthood.

I often select out of my breedings the pup that I think has the best potential and then when they reach a year old I may decide they are worthy of breeding or they are not. Even with experience (which does help) you can never be sure when they are a pup.
$3000 PUPPIES ARE A PIPE DREAM
A lot of people see the prices that some of these dogs are bringing and assume their puppies will bring similar prices. That however is almost never the case. The average real world price on pitbull pups bred by the half a million registered dogs is about $100 - $300. The guy on the street that may have and exceptional Male and Female on premises to show would be purchasers, has a hard time getting $500 for a pup.

Go to your local animal shelter and ask how many pitbull puppies they have because the owners were unable to place them even for free; you may be surprised. In fact, even those who breed their female to some of the top studs (Nationally recognized) in the country, after paying stud fees often in excess of $2500 are having a hard time finding buyers willing to pay over $500 for their pups. That is just the nature of the economy, along with the supply and demand. ANIMAL SHELTER
WHY WOULD ANYONE BUY A PUPPY FROM YOU
A very wise man once said:
"You can build a better mouse trap, but that doesn't necessarily mean that they will beat a path to your door."
You could search the world over and assemble the best dogs on the planet. You could do a breeding to the likes that the world has never seen before. But it doesn't mean that people are going to be lining up to buy from you.

You will also need to become an expert in marketing. Remember, every Tom, Dick and Harry who owns a Pitbull is trying to breed and sell puppies. What makes you different? Why would anyone pay you $3000 for a dog, when the guy down the street has a nice litter and is selling his for $200? If you expect to make money breeding; you better have good answers for those questions.
Before becoming a dog breeder read all my pages on health