Famous!
Mr Pitbull
Welcome!
Check Out Our
Pitbull Puppies
Mr Pitbull
is the way to go!
Expert
Advice!
Secrets of the top Kennels.
Pitbull care and Info.
CLICK PICTURES TO ENLARGE 🔍
HEAT STROKE CAN STRIKE WITHOUT WARNING
Many people are shocked at just how fast a dog can succumb to heat stroke and die.

On this page we take a look at why dogs are easily over-taken by the heat and fall victim to a heat stroke. We also examine a very disturbing trend that is being popularized by unknowledgeable breeders of some breeds of dogs including pitbulls, that has caused a dramatic rise in dog deaths due to heat stroke. I invite you to read this article carefully and arm yourself with the information needed so your dog doesn't become a victim of a heat stroke.
DON'T LOOSE YOUR DOG TO HEATSTROKE
It has gotten to the point I almost hate to see summer come because of the number of emails I receive from someone who has lost a dog due to heat stroke. Below I answer an email from someone who has just lost their beloved dog to heat stroke. My advice may save you from a similar ordeal involving a heat stroke.
Maria from Texas City Texas asks Mr Pitbull:
Dear Mr Pitbull, I have a Gotti Pitbull named Cyrus, the other day it was very hot and I found Cyrus in the backyard weak and stumbling around. I suspected heat stroke and tried to get him cooled down with the garden hose. He went into convulsions and died. I am broken hearted. I really loved him; he was the best dog ever. He had plenty of shade and I even had a mister to spray water on him. I feel guilty, even though I don't know what else I could have done. I want to get another dog; I just don't want to go through this again. I'm hoping you have some ideas.
IF YOUR DOG HAS A SHORT MUZZLE HE IS IN DANGER OF HEAT STROKE!
Vanessa, I am truly sorry for your loss. Losing a dog can be as difficult as losing a loved one, especially is it difficult when losing a dog to a heat stroke. The difficulty is compounded by the fact that you did everything you could to avoid the heat stroke. Sadly the cause in your case was something you could do little about. There is a trend to breed muzzles shorter and shorter; this is the cause of the rise in heat strokes in PitBulls. Unlike humans, dogs do not sweat. The dog's primary defense against the buildup of heat is through the breathing process. When you see a dog panting, the dog is cooling itself.
SHORT MUZZLE DOGS ARE AT GREATER RISK OF HEATSTROKE
It is a fact that the shorter the muzzle, the less effective the dog is cooled while panting. For this reason Airlines have two sets of restrictions on flying dogs during high temperature times. Dogs that have been classified in the short muzzle group are very limited as to the temperatures that are acceptable to fly in. In fact, some airlines will not even fly a snub-nose dog.
CLICK PICTURES TO ENLARGE 🔍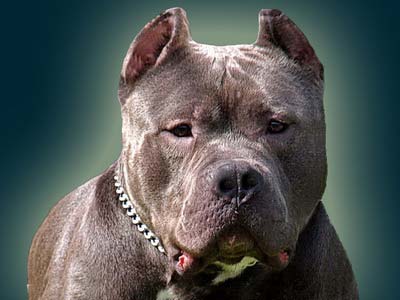 IF IT GETS HOT WHERE YOU LIVE AVOID SHORT MUZZLE DOGS
Because so many dogs classified as PitBulls now have the short muzzles, PitBulls are now classified as a snub nose dog. So therefore my recommendation to avoid the potential for a heatstroke is; stay away from a dog with a short muzzle for the sake of the dog's health. As you look at my dogs, you will note that I have been careful not to get caught up in the craze for shorter and shorter muzzles, knowing the severe risk of heat strokes among pitbulls.
ON HOT DAYS YOU HAVE TO BE EXTRA DILIGENT
Heat stroke in dogs is one of the most preventable health issues challenging dog owners today. Yet it only takes one small missteps for heat stroke to strike, as I myself learned first-hand. I ran to the kennel one hot summer day to drop off a few things. I had one of the dogs out of her kennel and she was playing in the yard. As I was going in and out with the gate open, instead of putting her in her kennel, I decide to simply secure her with a leash, after all, I was only going to be a minute. When I was finished, I left the kennel, and too, totally forgot that I had secured her to the fence.
A DOG CAN SUCCOMB TO HEAT STROKE VERY QUICKLY
Out of the shade and with no way to get water, it wasn't long before she was overcome with a heat stroke. Forty-five minutes later, my Dad went to the kennel and found her slumped to the ground, having thrown up. He immediate realized that she was suffering a heat stroke. I have a small pool in the play area for the dogs to play in, so my dad quickly immersed her in the pool, and ran cold water over her. It took about 20 minutes for the effects of the heat stroke to subside and the dog to climb out of the pool on her own power. Another 15 minutes in the hot sun, and I believe she would have succumbed to the heat stroke.
I learned you simply cannot be too careful. Anytime the weather is hot, you have to take measures to assure that your dog does not become a victim to a heat stroke.
While you are here, take a look at my Pitbull Rescue pages