Famous!
Mr Pitbull
Welcome!
Check Out Our
Pitbull Puppies
Mr Pitbull
is the way to go!
Expert
Advice!
Secrets of the top Kennels.
Pitbull care and Info.
CLICK PICTURES TO ENLARGE 🔍
SADLY VERY FEW DOG FOODS CAN I RECOMMEND
In this article we take a look at the best dog food for Pitbulls and puppies. Every question I answer concerning the best dog food is directly from my mailbox. I have selected the best and have included them for your review.

Although I relate what I feed my Pitbulls, I am confident that the information is beneficial for most any breed.
A WORD OF CAUTION
One word of caution: When seeking information pertaining the right dog food to feed your canine friend, you have to be very careful because many websites are written by people who own few if any pets, and are simply relaying information that they have read. So too, most pet owners have very little experience and have done very little research into complex dog food and diet requirements for their pets. In fact many of the most popular commercially prepared dog food is unfit for any animal and especially your beloved pet!
ADVICE BASED ON MY EXPERIENCE
All content on Mr Pitbull is based on my personal experience, providing a balanced diet for my Pitbulls and puppies alike. Just look at my dogs and it (I believe) will be evident that my advice is trustworthy. I would like to personally thank you for visiting Mr Pitbull and I hope that the tips and information provided will help you determine the best food for your Pitbull friend.
Marsha from Dallas asks:
What kind of dog food do you feed your Pitbulls? I just rescued Caesar and I want to make sure that he is getting the best nutrition possible.
WHAT FOOD DOES MR PITBULL FEED
That's a good question Marsha. Proper nutrition is a must, especially if you want your dog to be happy. Sadly, I have tried many different processed (manufactured) dog foods, and have not found any that I have been happy with.
Most dog food is full of fillers and unwanted by-products. Those that are grain free, offer a big advantage. Personally, however, I feed my dogs an all
RAW MEAT DIET
. It can be a lot more work, and the cost is not cheap either, but it does offer many advantages that you can see in their health.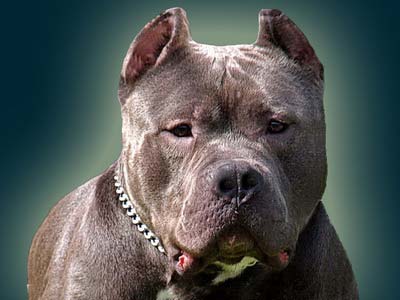 CLICK PICTURES TO ENLARGE 🔍
MR PITBULL FEEDS A RAW MEAT DIET
The first thing you will note when feeding your dog a raw meat diet; you will have
less than half the amount of stool to clean up! And it doesn't stink!
My Pitbulls love it. And so do I!
There is a lot of information on the INTERNET in regards to dog food and all raw meat diets, and I recommend doing a lot research. What I can tell you; every dog is different, therefore I cannot advocate a certain menu. I mix up different ingredients in each bowl according to particular needs.
NOT EVERY DOG SHOULD BE FED RAW MEAT
If you plan on feeding a RAW MEAT DIET I am confident that you to will find your Pitbull to be happier with the carte du jour. I do though recognize that for many, a raw diet is out of the question. Therefore we will give you some tips as to what to look for in picking out a good quality dog food.

Although I feed a raw meat diet, I have a lot of experience feeding kibble as well. I fed my dogs kibble for years before switching to the raw meat diet. So too, still, I do not feed my puppies and juvenile dogs raw meat. I feed them commercially prepared dog food along with a number of supplements. Additionally, dogs that I feel need to gain weight, I feed commercially prepared food (kibble) and of course supplements.
CLICK PICTURES TO ENLARGE 🔍
DONT FEED DOG FOOD UNTIL YOU'VE READ THIS
Owning a lot of dogs I have learned when it comes to the best commercial dog food; one size does not fit all.

Some love and do great on one brand, while the next dog won't touch that brand, or has loose stools, or a coat that looks terrible, because even the best dog food is not going to meet the nutritional needs of every given dog. Therefore, I always use a variety of supplements added to their meal.

Too, some pets may be allergy prone, so choosing the right product can make a tremendous difference in the quality of life.
WITH SO MANY CHOICES HOW DO YOU PICK THE BEST
There is no shortage of options when it comes to commercially prepared dog food today. I recently noted one large Online retailer is selling 109 different brands! And each of those brands are available in a variety of products. Choice is not a problem! Finding good quality food that works is!

Most experts agree that even the best dog foods are filled with useless fillers that have little or no nutritional value. A bag of average dog food will contain far more fillers such as corn, rice or potatoes then it does meat, which is essential for good health.
It used to be that a pet owner when shopping for the best dog food choose the biggest bag for the lowest price and felt he was getting the best bargain. Many today realize that a 50 pound bag that contains 45 pounds of corn, rice and potatoes, is not the best bargain at all. Thankfully, today, a number of companies are stepping to the plate and manufacturing some high quality offerings that were not available when Pluto was a pup.
MOST DOG FOOD IS JUNK!
Imagine that everyday all you ate was a Big Mac and Fries. Now imagine that instead of the Big Mac having hamburger patties it had sawdust patties. How long until you started experiencing health problems?

Although the aforementioned sounds ludicrous, isn't that exactly the way most dogs are fed? Most dogs eat the exact same thing everyday. And believe me; what is in most dog food is not fit even for McDonald's. Most if not all are filled with useless fillers that a dog cannot digest. It is no wonder that a dog's life is so short. And it is also no wonder that once a dog is given the right nutrition that you see dramatic improvement in their health.
YOUR DOG DESERVES THE BEST DOG FOOD
I've tried a lot of different so called best dog food, and have researched them extensively. I have provided some links here to some of what I consider to be the best available. The list is not all inclusive, simply where I would look first.

The best dog foods will have a high meat content in comparison to filler. So while the price may seem high per pound, because of the greater meat content, you will feed less of it. So in the end, cost is generally not as high as what you might think comparative wise to lower quality dog food.
#1 CHOICE COMMERCIAL DOG FOOD
Taste of the Wild brand is what many kennels have switched to in recent years. It is perhaps the most competitively priced 5-star rated Kibble on the market. A 30# bag of Taste of the Wild is one of the best selling items on Amazon in the pet department. Oftentimes coming in at #1. That means that a lot of people are buying Taste of the Wild from Amazon. When feeding Kibble, this is what I generally use. I think that it is in most cases the best value for a quality "grain free" formula. TASTE OF THE WILD, Hi Prairie Canine Formula The #1 seller in the Pet supplies department at Amazon. Many people are surprised to find that buying dog food Online is not only more convenient, but is often cheaper. Too, if you sign up for "Amazon Prime" you will receive FREE SHIPPING on most dog food orders!
#2 CHOICE FOR GRAIN FREE FORMULA
Blue Buffalo Wilderness or simply put, Blue Wilderness is another excellent value for a quality kibble. I would try this and see how my dogs respond while on it compared to TOTW. If my dog did well on both, then I would buy whatever one was priced best at a given time. It too, is a 5-star rated product. BLUE Wilderness High Protein Grain Free Chicken
BEST BUDGET GRAIN FREE FORMULA
Nature's Recipe Grain Free Salmon, Sweet Potato & Pumpkin Recipe is a nice choice if you are not going to pay for the top brands. For the price, you get a grain free formula at a price that is unmatched.

Of course, like other grain free formulas, other ingredients are substituted. In this case, sweet potato, and pumpkin; useless fillers. Their claim that Salmon is the number 1 ingredient is however misleading. Instead of potatoes being 60% (I have no idea as to the actual amount, simply stating a figure as a basis of illustration), if you cut that quantity in half and then use pumpkin (or any other filler) as the other 30%, then you can rightly claim that the meat product is the dominant ingredient. Deceptive if you ask me. Frankly however such claims is on par with the industry practice. Nature's Recipe Grain Free Salmon, Sweet Potato & Pumpkin
IT REALLY DOES NOT COST MORE TO FEED THE BEST DOG FOOD
The only dog food I recommend is GRAIN-FREE. Grain is something that is hard for dogs to digest and causes all kinds of stool issues. Too, for many dogs, dog food containing grain is a source of allergies. Many have seen an amazing transformation in their pet's health by simply going to a grain-free formula. If you suspect that your dog's allergies may be food related, go with a limited ingredient dog food such as
Natural Balance Grain Free Limited Ingredient
It is a little low on meat content compared to some of the dog food here, but a good place to start.
CLICK PICTURES TO ENLARGE 🔍
TRY SEVERAL GRAIN FREE FORMULAS AND SEE WHICH WORKS BEST
I have listed above what I believe to be the best dog food. What I would do is decide on two or three of these dog foods and order each. Try each dog food for a month or so and see which dog food your dog does best on. Contrary to what some may say, my experience is; there is no need to introduce new dog food slowly. Whenever I change dog food, I feed all I have of one dog food and then start them on the next dog food all at once. Most dogs do perfectly fine.
ADD SOME TRIPE TO YOUR DOG'S DIET
Green Beef Tripe
is another important dog food item. Tripe is part of the stomach of a cow or other animal. This is where essential nutrients are absorbed as an animals food is digested. Just as a balanced raw diet should include organ meat such as liver, heart and kidneys; so too, Green Tripe is a great source for essential nutrients that your dog may not get anywhere else.
The term "Green" has nothing to do with the color as the color is actually grayish brown. The term green simply refers to the fact that the tripe is unwashed or unbleached. Some people feed Tripe as their primary source of dog food.
What to feed and not to feed puppies on the next page