Famous!
Mr Pitbull
Welcome!
Check Out Our
Pitbull Puppies
Mr Pitbull
is the way to go!
Expert
Advice!
Secrets of the top Kennels.
Pitbull care and Info.
CLICK PICTURES TO ENLARGE 🔍
INFORMATION ON RAW MEAT DIETS
If you are considering feeding a Raw Meat Diet to your dog, you will want to read the tips and advice I provide here.

All information supplied is from my personal experience. On this page you will learn what to feed your pet, and how much to feed.

We discuss what caution is needed, as well as any safety concerns. You will learn of the extraordinary advantages that go beyond the obvious health benefits.

Bottom line: You and your dog will love it!
BE CAREFUL OF WELL INTENTIONED MISINFORMATION
There is a lot of information Online in regards feeding your Dog a Raw Meat Diet or a BARF DIET. I suggest you take the time to do a lot of research and draw your own conclusions. Remember when researching for tips and information, you often don't know who is writing or their level of experience. Some have almost no experience in feeding raw meat, and have done virtually no research, while others simply repost what someone else has written. So be careful and be diligent in your research.
I FEED A COUPLE DOZEN DOGS AN ALL RAW MEAT DIET
I own and care for a lot of dogs and puppies. I experience in a month what most pet owners will not experience in a lifetime. I have tried a number of different manufactured processed foods. And have not found any that I was totally happy with. The last one I tried was TOTW which I went through 100'S of bags. One thing you will find with processed foods is that they all have fillers (some more than others) and preservatives.

I finally decided to bite the bullet and have been feeding all my dogs an "All Raw Meat Diet" for the past number of years, and I and the dogs absolutely love it! I used to think I had too many dogs to feed an all raw meat diet, now I know how foolish that thinking was.

When I go to my supplier I buy 800 lb of chicken (I would buy more if I had more freezer space), along with organ meat, fish, oils, eggs and other ingredients. The dogs chow like you would not believe!
MUCH BETTER LOOKING COATS
A lot of people ask if feeding a dog an all raw meat diet adds more muscle to my Pitbulls. I suppose it would if I worked them out, which I don't. But their coat's look way better. Their weights are about the same, if not slightly leaner. Yet I suppose it is more a matter of how much I feed them.

Some dogs will pretty much continue eating as much as you give them; they love raw meat. Therefore you have to regulate the amount they eat. It would be easy to overfeed if you are not careful. If I were exercising them strenuously, I would have to feed them more, and I am sure they would perform better and look even better.
THE BEST MEAT IS THE ONE THAT IS CHEAPEST
I do not live in an area were there are any good sources for cheap raw meat suitable for dogs. I have had to negotiate with a couple of local grocers for best prices. The best meat to feed, is the meat that you can buy cheapest. That should be your primary feed. My main food source is chicken leg quarters that I purchase at 50 to 60 cents a pound. It comes in 10 pounds bags and 4 in a 40 lb box. I feed each dog 2 or 3 legs quarters everyday. Additionally, I add (not always everyday) organ meat, cottage cheese, yogurt, green tripe, Salmon oil and a vitamin supplement.

When it is all said and done, I would guess that it cost me about 30% more to feed this diet over feeding a good quality kibble. But of course, your mileage may vary. I get into more detail later.
ORGAN MEAT IS IMPORTANT TOO
Every two or three days I give each a good size hunk of liver or beef heart. I buy the liver in a box that weighs 30 lbs and I pay about .90 cents a pound and about a buck a pound for the heart. I also feed them once a week canned Mackerel, and everyday I give them a little Salmon Oil. Salmon Oil All-Natural Dog Food Supplement
LOOK FOR SALES
I look for sales on other meats and feed those as I find them. For example; I just bought a bunch of Kidneys to feed as well. I found a place where I can get beef heart in a 70lb box for about a dollar a lb and have been feeding that about every other day.
I just try to mix things up a bit for some variety and a little balance in their diet. I avoid any and all vegetables.
I try to feed about 3 to 4 lbs a day per 100 lbs of weight. I also add
K9 SHOW STOPPER
depending on the need of each dog.
CLICK PICTURES TO ENLARGE 🔍
WHAT IS THE COST OF FEEDING A RAW MEAT DIET?
What a lot of people forget when trying to compare cost to commercial dog food is; you can not compare price per pound. Commercial dog food (Kibble) has been dried of almost all moisture content.

When feeding kibble my dogs will eat about one pound a day. Because most raw meat is 67% water by weight, you have to feed about three times more by weight. So for instance; let's say you buy a 30 lb bag of dog food for $60; that is $2 per pound. You then feed your dog one pound per day, thus it cost two dollars a day for his food.

ON AVERAGE IT WILL COST MORE TO FEED RAW MEAT BUT IT'S WORTH IT
Because you will need to feed about 3 lbs of raw a day you would have to purchase your meat for 66 cents a pound to feed as cheaply as the kibble dog food as quoted above. Of course your mileage may vary. You will have to price everything out and carefully weigh portions to figure out your cost. And don't forget, you may have some added cost with refrigeration.
LESS THAN HALF THE STOOL TO CLEAN UP AND NO SMELL!
There is an old saying: "The proof is in the pudding", and I believe it holds true when feeding raw meat dog food, with an examination of their stool. I tried a lot of different processed (manufactured) dog food, and never had any I was totally happy with.

When you have over 20 PITBULLS, you know if a dog food works well or does not. Some dogs would do well on one kind dog food and others would not. I could not find any commercially processed dog food that would give my dogs consistently good stools.
STOOLS ARE WAY WAY BETTER
On the Raw Food Diet the stools are way, way, way better! Although not always perfect, in general the stool is entirely different then when feeding kibble.

90% of the time the stool is hard and has almost no smell at all. When they go in the play area, within about an hour of it being in the sun, I can go step on it and it turns to dust! I can't even remember the last time any has stuck to my shoe, which was a daily occurrence before (Since originally writing this, two years ago, every time I go home, before entering the house I remember this statement. Still I have not had any on my shoe!).

An too, there is way less than half the amount to clean up; way less. This aspect alone makes the all meat diet a winner.

Additionally, they drink less water when on the raw food diet. Too, they can breathe straight into your face and their breath smells perfectly fine. Their teeth are much cleaner. All of these makes the raw food diet for dogs a winner!
THE BENEFITS OUTWEIGH THE EXTRA WORK
Obviously, there is more work on the front end; food preparation, storage etc. But in the end, a raw food diet is way better for the dogs, and the cleanup is not near as bad as a chore. I could not recommend something more highly.

There is a lot of info written Online in regards a Raw food diet, and frankly I will have to feed them this way for a few more years before I would consider myself to be an expert, if in fact such does exists lol. So research yourself, as with anything opinions do vary.
ONCE YOU GO RAW YOU'LL NEVER GO BACK
One more thing; you will be hard pressed to find someone who feeds their dogs a balanced raw food diet that would ever think their dogs would do better on store bought processed dog food, no matter the brand..
FEEDING RAW MEAT DIET TO PUPPIES
Puppies absolutely love raw meat. They chow it down like you cannot believe, bones and all. Although I am quick to recommend the advantages of a Raw Food Diet to everyone, I wouldn't be too quick to recommend it for Puppies. Puppies need a lot more attention when feeding a raw meat, then do adults. If you have got the game plan down... maybe a raw meat diet for the pups will be good. There are however a lot of variables that have to be taken into account with a puppy.
I WOULDN'T FEED PUPPIES RAW MEAT
Pups are very sensitive to food poisoning. They do not eat their food on a plate or leave it in a bowl. They drag it all around the kennel and most of the time only partially eat it. You can remove the left overs (if you are always in a position to go back out 30 minutes later), but still the residue left behind can grow bacteria that can be dangerous to the pups.

I have experienced food poisoning several times with the pups. I really don't think most people are well suited, to feed pups a raw food diet.
CLICK PICTURES TO ENLARGE 🔍
A SICK PUPPY CAN QUICKLY SUCCUMB TO DEHYDRATION
Too, a pup that gets food poisoning can dehydrate very quickly, and death can result. Unless you are prepared to leave them with the vet for a few days or have the means yourself to SUB-Q HYDRATE the pup; I would stick with kibble until they get to be about 6 to 8 months.

Again, arm yourself with as much information as possible before beginning a raw meat diet.

Worth mentioning, I can't remember ever having an adult dog get sick because of food poisoning.
BARF DIET
Some folks promote the BARF Diet. BARF stands for "Bones And Raw Food". A BARF diet, will often consist of vegetables, which I personally do not promote. I don't condemn or knock those that feed a BARF model raw meat diet for dogs and add vegetables. But I have good reason for not including vegetables in the BARF diet I feed my dogs.

Fact is, even the sharpest Scientific researchers disagree on diet and nutrition. What they teach one year; they condemn the next. Just note all the different diets recommended for humans that come and go on a yearly basis. DO YOUR OWN RESEARCH!
DONT BE FOOLED BY HOGWASH - A PREY DIET DOES NOT INCLUDE VEGETABLES!
Some who promote BARF diets encourage adding vegetables. They reason this way: They say that in the wild when a carnivore takes down it's prey, the first thing they eat is the stomach contents which contains all the grasses, and that such is necessary for proper nutrition of a carnivore. But that thinking is based on faulty information.

Having spent countless hours out in the bush and field researching the interactions of both Deer and Coyotes, this is what I have observed first hand: The first thing the Coyotes go after is the stomach area, simply because it is the easiest area to breech, and contains all the rich nutritional internal organs. The dozens of times that I have came upon either deer carcasses or gut piles left by hunters; I have never seen the stomach content eaten. It is always pushed to the side.
LEAVE THE VEGETABLES FOR THE RABBITS
Experts and myself agree that predators do not eat the stomach content of prey, that is, unless it is a small animal that is consumed in whole. There is no reason to feed any vegetation when feeding a BARF diet to Dogs.
IS THE BARF DIET RIGHT FOR YOUR DOG?
In the end, one must decide for themselves what kind of meal plan to feed their dog and what regiment to follow. Personally I believe in a prey model diet that contains no vegetation.
Do your research carefully, read as much as you can, understand that good balance is required when feeding any diet to your dogs. Of course a good
VITAMIN & SUPPLEMENT
couldn't hurt either.
As I said before, the proof is in the pudding; just
LOOK AT MY DOGS!
LAST WORD ON CARNIVORES AND VEGETABLES
For a number of years I lived in a wilderness area, that had a high population of Coyotes and Deer. I fed the deer at my house everyday, all year. I had a smörgåsbord of vegetables, grains and grasses. One year I even bought 20 tons (one load) of potatoes for them. Now, I had a yard full of wildlife of every kind of squirrel, duck, bird, and turkeys, you can imagine, joining the party. However never once did I see a Coyote eating my corn or any other vegetable.
CLICK PICTURES TO ENLARGE 🔍
WILL EATING RAW MEAT CAUSE A DOG TO GO CRAZY AND ATTACK PEOPLE?
One question that I get asked often, is one that I cannot believe anyone would ever believe. But apparently a lot of people do, because I keep getting emails asking this question:

Dear Mr Pitbull, if I feed my dog raw meat will it make him go crazy and start attacking people?

LOL! No! Feeding a dog raw meat will not cause a dog to go mad. Nor will a dog go mad if he taste blood! I get that one a lot too!
Bingham from Kansas City KS asks:
Dear Mr Pitbull, I have been trying to feed my dog Trina a Raw food diet, but she doesn't like the raw meat. She will only eat it cooked. I've heard that raw meat is better. How can I get her to eat it?
CLICK PICTURES TO ENLARGE 🔍
COOKED MEAT FOR DOGS
Bingham, Thanks for writing Mr PitBull. I believe that a natural diet of raw meat is the better way to go. For example, when eating raw chicken, the bones are soft and are eaten easily and are nutritious. With cooked chicken you would have to remove the bones because they become brittle when cooked and can harm your pet.

Researchers in recent years have however found that feeding cooked meat is better than feeding kibble. So in this regard, if I had one puppy, I might be inclined to cook the meat. Yet for an Adult, I would stick with raw.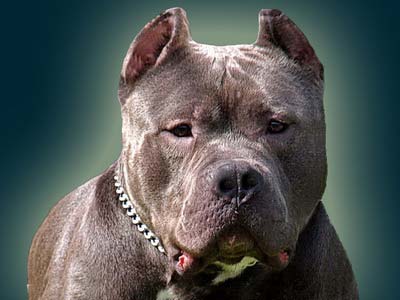 WHAT IF YOUR DOG DOESN'T WANT TO EAT RAW MEAT
So, Bingham, If Trina won't eat what you are trying to feed her, I believe the account I am about to relate will help.

Years ago, my family had nothing to eat. We were down to a ten pound box of Macaroni and no dog food to feed "Spot", the family dog. After we finished eating I put the left over Macaroni in Spot's dish and he would not touch it. I said to my Dad that "Spot" does not like Macaroni", and my Dad replied; "everybody likes Macaroni."

The next day it was Macaroni again for everyone, I threw the left-overs on top of the dried up Macaroni still in Spot's dish. Spot smelled as he did the day before and turned up his nose. I said to my dad; "Spot doesn't like Macaroni". My Dad responded by saying; "everybody likes Macaroni."

The next day the same thing occurred, and I was becoming very concerned. But again my Dad simply said; "everybody likes Macaroni."

The next night after supper I dumped the left-overs on top of the hardened blob of Macaroni, Spot came over and immediately began to gulp it down, including all of the hard Macaroni from the days before. I said to my Dad; "look, Spot is stuffing himself", and my Dad said; "everybody likes Macaroni!"
Ray Ray from Jonesboro Arkansas asks:
Dear Mr Pitbull, does a raw food diet build bigger body mass and more muscle? And what's the best way to get a raw food diet started? We purchased a female pitbull and we would like to purchase a male also so that they could grow together. We just want the Massive Stocky build and believe a raw meat diet will help; any advice would be greatly appreciated.
WILL FEEDING YOUR DOG A RAW MEAT DIET ADD MUSCLE
Ray Ray, Thanks for writing Mr Pitbull. I don't really believe that a raw food diet is going to add more mass or more muscle in comparison to the best grain free kibble. In fact, I think that my dogs are perhaps a little leaner, yet better fit when eating a raw diet.

Although nutrition plays a role in muscle development, you cannot negate genetic factors. For example, you take a Marathon runner from Africa and feed him the best diet in the world, he is not going to end up looking like the Governor of California (Arnold).
YOU CANNOT TURN A PITBULL INTO AN AMERICAN BULLY WITH FOOD AND EXERCISE
A lot of people have a beautiful traditionally bred Pit Bull and want them to have the size and width of an American Bully, like the ones on Mr Pitbull. If you want your pitbull to look like mine, you cannot manufacture them with a raw food diet and exercise. It is just not going to happen. Go to my site and read "ASK MR PITBULL ANYTING" you will find further detail there. Feeding your dog a raw food diet will improve his or her health, and will help your dog to become the best they can be. But yet, the best nutrition in the world will not overcome genetics.
WHAT IS THE PROPER WAY TO START DOGS ON A RAW DIET
I have often read people recommending that you should transition slowly from kibble. They advocate adding a little raw meat along with the kibble. For some reason they believe that it is necessary for their system to adjust (they don't have a clue). I have never found this to be the case. With dozens of dogs I have started them on raw meat "cold turkey" and they have always done great. I've also had to switch back to kibble (taking dog on trip) and no transition has ever been needed.
IT MAY BE POSSIBLE TO FEED RAW MEAT INEXPENSIVELY
If you live in a large Metropolitan area, finding a cheap source for meat will be difficult. However, if you know where there is a slaughterhouse or a large scale butcher operation, you may be able to hit the jackpot. These places will have all kinds of leftover scraps and trimmings that are perfect for your dog's consumption.

Plan on buying several hundred pounds at a time. Then divide it into serving sizes and use freezer bags to store it in your Freezer. A lot of people do this and actually save money feeding their pets.
EVERY DOG DESERVES THE BENEFITS OF A RAW FOOD DIET
Bottom line: It takes a lot more time to prepare, serve and cleanup, then it does when feeding kibble. For this reason alone, it will be impractical for many to serve such to their dogs. So too, the cost are likely to be more, perhaps considerably more.

Yet with that said, if you have the time, patience, and a good measure of discernment, I am certain you will find that both you and your pet will enjoy the benefits. Regardless of the extra work, I believe that every dog deserves the benefits of a raw food diet.
Make sure you read my Vitamin and Supplement page