Famous!
Mr Pitbull
Welcome!
Check Out Our
Pitbull Puppies
Mr Pitbull
is the way to go!
Expert
Advice!
Secrets of the top Kennels.
Pitbull care and Info.
CLICK PICTURES TO ENLARGE 🔍
IMPORTANT PUPPY FOOD INFORMATION
On this page I relate what I feed my puppies, and tell you how to avoid common mistakes many dog owner make.

Puppies have unique needs when it comes to nutrition. Knowing what to feed your puppy can make all the difference in the world, in the long range health of your beloved pet.

Feed him or her the wrong food and you could end up denying them of the nutrition needed at this critical stage, resulting in lasting health problems. The right food is absolutely critical for a growing puppy.
DO NOT FALL VICTIM TO GREEDY PUPPY FOOD MANUFACTURES!
On this page I expose the travesty that is being perpetrated on the unwary consumer by the puppy food industry. If you have a puppy and are concerned with having the best nutritional diet for him or her; you will want to pay careful attention as I relate what we use here in our kennel to feed our puppies.
MOST DOG FOOD IS JUNK!
Puppies nutritional needs differ from adult dogs. Because a puppy is in the growth process, bones and cartilage in particular are very vulnerable. A good quality food, that is
GRAIN FREE
is extremely important. Historically, there have been few good quality puppy foods, so I was often forced to go with the kibble that I fed my adult dogs. You will find them listed on my
DOG FOOD PAGE
.
In just the past few years, we are starting to see some decent choices for growing dogs. I identify several nice choices below.
THE DIFFERENCE BETWEEN ADULT AND PUPPY FOOD
As a dog grows they need a different level of minerals than adults to support the growth and proper Hardening of the bones. In 2016 new standards went into effect that requires labeling changes as well as establishing limits on how much Calcium and Phosphorus is included. As a puppy and juvenile dog grows it does not metabolize Calcium at the same rate as an adult. Feeding an Adult food too soon will increase the frequency of Hip Joint Arthritis and Hip Dysplasia, which can be common among some large breed dogs.

So too, small, medium and large breed dogs, have different requirements and therefore, you do well to endeavor to purchase a formula based on the size of your breed. Additionally, small breed dogs mature very quickly and can be switched to adult recipes much earlier. Very Large breeds may not mature until 24 months. For medium/large size dogs (50-90 pounds) the time frame is 12-18 months.

By today's standards a dog that is over 50 pounds should be considered as a "Large Breed." If you have such (Pit Bulls included) it is important that you read the label carefully. Look for the AAFCO statement, and you want to look for this on the label:
"INCLUDING GROWTH OF LARGE SIZE DOGS"

Once they stop growing and you allow sufficient time for their bones to harden (time for bones to harden varies based upon the size of the breed), then you should switch them to an adult formula.
FEED THE PROPER PORTIONS
Do not over-feed! You will note on the label the proper amount to feed based upon their weight. This is important. Clinical studies have shown that dogs that were over-fed during the growth process, tended to be less healthy as adults. Researchers found that during the growth cycle, dogs that were fed too much, resulted in bones that grew too fast, causing permanent disabilities.

Many people think that because they eat three times a day, so should their dog. That is a big mistake. I feed my dogs once a day. I feed puppies twice a day. However, as soon as they start showing less interest in the second daily portion, I switch them to once a day feeding.
MY TOP PICK COMMERCIAL PUPPY FOOD
Taste of the Wild brand products have quickly become the top selling brand on Amazon, and is what many kennels have switched to in recent years. It is perhaps the most competitively priced 5-star rated Kibble on the market. When feeding Kibble, Taste of the Wild is what I generally use. The Puppy Formula is priced the same as the adult formula, which makes it an excellent buy. As mentioned above you will note on the label that it is formulated for All Stages "INCLUDING GROWTH FOR LARGE SIZE DOGS." Taste Of The Wild - High Prairie Puppy Venison & Bison Taste of the Wild is often the #1 seller in the Pet supplies department at Amazon. Many people are surprised to find that buying dog food Online is not only more convenient, but is often cheaper. Too, if you sign up for "Amazon Prime" you will receive FREE SHIPPING on most dog food orders!
ANOTHER EXCELLENT CHOICE
All Blue Buffalo Wilderness line comes highly recommended for quality ingredients and reasonably priced. You will note that they offer both a blue bag and pink bag. You want to make sure that if you are feeding a Pit Bull that you choose the Pink bag, as it is formulated for a large breed.

Currently as of this writing, the protein level of this product is higher than most other brands, which can indicate a greater percent of meat content. I would therefore recommend that you do a little calculating to determine at time of purchase, which product is giving you the most protein, taking into count price per ounce. Blue Wilderness High Protein Grain Free, Puppy Large Breed
YOUR PUPPY NEEDS A GOOD SUPPLEMENT
Even though there is now some nice choices, still they fall short in providing what is needed in my opinion. Therefore, in addition to feeding kibble I like to add raw eggs, whole milk, cottage cheese, yogurt, green tripe and Salmon oil to their bowl. Just use your best judgment as to how much of each to add to their bowl.

I also add a good nutritional supplement. I personally love K9 Puppy Gold which is manufactured by the same company that makes K9 Showstopper which I use a lot of, with my adult dogs. K9 PUPPY GOLD I add a generous helping of the Puppy Gold to their dish at meal times. I also go through a lot of Sav-A-Calf line of products that is heavily relied upon in the agricultural industry. Their product Ultra-24 is an excellent supplement that is reasonably priced. Grade A Ultra 24% Multi Species Milk Replacer In fact I don't think you can beat Ultra-24. I feed it to my pregnant females and continue until the puppies are weaned. Then I start feeding it to the pups once they are weaned. I see a very noticeable difference in the size and weight of my pups when adding Ultra-24.
BE CAREFUL IF FEEDING RAW MEAT TO PUPPIES
I personally avoid feeding the pups a
RAW MEAT DIET
, although they can eat it without difficulty. I feed them commercial puppy food instead.
The problem is that pups are very susceptible to food poisoning. Because it takes them a while to eat and they tend to drag the food all over, bacteria can grow, even when you think you have been diligent in cleaning. I have had several pups become deathly sick. I now feed the mother away from the pups so that there is not a chance of food poisoning.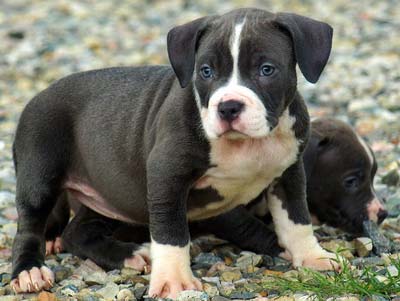 LOTS OF SUNSHINE IS IMPORTANT TOO
Another thing that is very important, is to make sure your puppies get plenty of sunshine. This will help in the absorption of Vitamin D which is critical to growing bones. I get calls from time to time from people who notice that their puppy's legs and joints are weak and bend funny. I advise them to see a vet immediately. However, most of these cases are due to Rickets, which is caused from lack of Vitamin D, calcium and sunshine. Add a little Vitamin D and sunshine and Rickets will disappear in just a week or so.
CLICK PICTURES TO ENLARGE 🔍
IT'S ALL ABOUT PROFITS
Some people have wrongly concluded that a manufactured puppy food is all the puppy needs. That is complete hogwash! As a practical matter consider this: By believing that a puppy is going to get all he needs from eating puppy food, you believe that the company that formulated the puppy food is all knowing. You also believe that the puppy food company has the interest of your puppy placed above profits.

Certainly, anyone who has ever studied the puppy food industry knows that PROFIT IS KING and the ingredients that go into making puppy food are anything but healthy, and the manufactures of puppy foods knows this.
READ THE LABEL ON THE TOP SELLING BRAND
Click on the link above and take a minute to look at the ingredients of what for decades has been the most recognizable brand. As you start reading the labels you will note that most all lead off with Corn or some other grain. In fact, here is a list of the first and dominate ingredients in the country's number one selling puppy food: Whole grain corn, corn gluten meal, chicken by-product meal, brewers rice. And you are going to let these guys figure out what your puppy needs? LOL

Even the best brands are loaded with useless fillers. It is all about the profits. No way in this world am I going to trust that they have the formulation of what my puppies need figured out. I know for a certainty, that I could take any young dog that is being fed any commercial puppy food and improve his health and the appearance of his coat with a few simple SUPPLEMENTS that are not found in processed puppy food.
IT REALLY DOES NOT COST MORE TO FEED THE BEST PUPPY FOOD
It is only because of government action and better consumer awareness, that finally there are a few decent puppy foods. Not long ago, you would have been hard pressed to find a grain free formula.

In fact, it was not that long ago that it took a government ban to stop manufactures from adding sand in order to artificially inflate the weight of their product so they could charge more. And you are going to trust them to formulate all that your puppy needs?
CLICK PICTURES TO ENLARGE 🔍
ADD SOME TRIPE TO YOUR PUPPY FOOD
Green Beef Tripe
is another important puppy food item. Tripe is part of the stomach of a cow or other animal. This is where essential nutrients are absorbed as an animals food is digested. Just as a balanced raw diet should include organ meat such as liver, heart and kidneys; so too, Green Tripe is a great source for essential nutrients.
The term "Green" has nothing to do with the color as the color is actually grayish brown. The term green simply refers to the fact that the tripe is unwashed or unbleached. Some people feed Tripe as their primary source of puppy food.
More info on my Raw Meat Diet pages. Click Button!