Famous!
Mr Pitbull
Welcome!
Check Out Our
Pitbull Puppies
Mr Pitbull
is the way to go!
Expert
Advice!
Secrets of the top Kennels.
Pitbull care and Info.
CLICK PICTURES TO ENLARGE 🔍
VITAMINS AND SUPPLEMENTS FOR DOGS
I get more mail asking what is the best vitamins and supplements to feed a Pitbull then any other subject. Some are skeptical that feeding vitamins or supplements to their pet is going to produce tangible results creating
MONSTER PITBULLS.
Others have been inundated with a barrage of advertisements and wonder if the claims are true. Almost always folks ask; "if I feed my dog vitamins and supplements will they look like your dogs?" This page deals solely with health related vitamins and supplements for dogs, and does not cover muscle building.
MUSCLE BUILDING THE MR PITBULL WAY
For information on how to build muscles on a Pitbull or any dog, you will want to checkout this page MR PITBULL MAKES PUBLIC HIS MUSCLE BUILDING SECRETS! Some folks are obsessed with tying to turn their pet into a battle tank. If that is you, click on the link above where I tell you what you won't find anywhere else! Now, if however, you want to know what vitamins and supplements will keep your dog healthy, this is the page.
THE RIGHT VITAMINS AND SUPPLEMENTS
For most people, their Pitbull is their pride and joy, and they want him or her to be at their best. So if spending a few dollars on a good supplements is going to improve their
DOG'S HEALTH
, they are willing to do so. They just don't want to be buying "snake oil" and get ripped off. I understand those sentiments.
I own several dozen Pitbulls and my life is rapped up in taking care of their health. Below I outline my experience, and I sincerely believe that if you heed my advice concerning the right vitamins and supplements for your Pitbull, your dog will be happier and healthier. And that is really what you want isn't it?
CHOOSE THE RIGHT SUPPLEMENT FOR YOUR DOG
As I peruse the web I note all kinds of sites promoting a single Pitbull supplement, as if that one vitamin or supplement is going to work magic on every Pitbull; such is not the case. I only wish it could be that easy. Health issues are complex.
CLICK PICTURES TO ENLARGE 🔍
YOUR DOG IS UNIQUE
Walk into any vitamin store and you see thousands of different vitamins and supplements. We wonder which product is the one that will work magic on whatever health concern we have. Of course we know that picking the right one depends on what is ailing us.

Just because one vitamin worked on Uncle Joe, doesn't mean it will work for us too. The same is true with your dog. Each dog is unique and has different nutritional requirements. For this reason, when giving any supplement to my pets, I consider the needs of each one and choose for each dog individually.
CLICK PICTURES TO ENLARGE 🔍
HEALTH SUPPLEMENTS FOR YOUR DOG
In my kennel, I have dogs ranging in age from newborn puppies to retirees. Each dog's nutritional needs vary drastically. Below I review the most common concerns that I believe will cover the nutritional needs for most dogs.
If you have not already done so, I recommend that you read all my health pages.
HEALTH SECTION
DOG FOOD IS TERRIBLE AND IS WHY SUPPLEMENTS ARE REQUIRED
The dog food industry is a utter shame and a sham. We see commercials telling us that the food they are trying to sell us is "specially formulated" for your dog's health. That is the biggest scam ever. Commercially available dog food is specially formulated for "their profits". If you think that your dog is getting good nutrition eating Purina Dog Chow, you are mistaken. Your dog would be better off eating every day, every meal, out of the dumpster at McDonald's.

Because of poor quality food, your K9 friend is going to suffer with poor health. That is a fact. Start feeding him or her, just one of the supplements I am going to recommend, and I am certain that in two weeks you will see a difference in the appearance of his or her coat. Follow my advice and that will be just the beginning.
THIS IS AN ALL AROUND GREAT DOG SUPPLEMENT
If I had to pick one dog vitamin supplement that I believe would improve the health of most any dog, I would go with
Animal Naturals K9 ShowStopper
. I have purchased thousands of dollars worth of Showstopper for my Kennel.
Even though I feed most of my dogs a balanced all raw meat diet, I see a marked improvement in the appearance of the dog's coats when feeding the K9 Show Stopper dog vitamin supplement. What is nice, it only takes a couple of weeks to start seeing the results with each dog.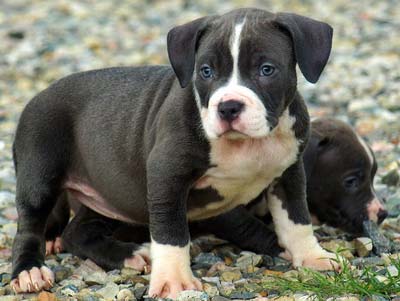 A DULL COAT IS A SIGN THAT A GOOD SUPPLEMENT IS NEEDED
If you were to buy a bunch of vitamins for yourself, would you see a noticeable difference in your health and appearance? Perhaps. Yet, I would say in most cases; probably not. This however is not the case with your dog. The quality of their diet is so bad (in most cases), that the difference is very easy to see.

A dull coat that sheds excessively is a strong indication that a dog is in need of a good vitamin & supplement. Most people have no idea how good their dog's coat is supposed to look like until they start feeding Showstopper. If you are feeding a commercial dog food, no matter how pricey, I would bet you will notice a difference. I know I do with my Pitbulls!
AT ANY AGE YOUR DOG WILL BENEFIT WITH NATURAL SALMON OIL
It has long been a proven fact that the Omega-3 found in Salmon oil does wonders for a dog's coat. It is also believed that the fatty acids found in Salmon oil has a variety of health benefits for dogs and is why many top kennels would not do without. I prefer to buy Salmon Oil in five gallon buckets, but the
Grizzly Salmon Oil All-Natural Dog Supplement 32 Ounces
is the right size for those with one dog. When you read the reviews you will note that a lot of people love it.
DON'T OVER-LOOK YOUR DOG'S TEETH!
You want to be careful not to forget about your dog's teeth. I cannot stress enough how many health issues are due to having problems with their teeth. The last time you had a toothache how well did you eat? For a dog, when it comes to health, it all starts with his teeth.

Dogs that are on a commercially prepared diet, generally have terrible teeth. If you are not feeding your dog a balanced all meat diet, you most definitely need something to keep your dog's teeth clean. I cannot stress enough how just a few dollar investment in the can make a huge difference in your dog's health and well being. I highly recommend: GREENIES Dental Chews Regular Treats for Dogs
When going to a new vet, if they don't open up my dog's mouth and closely examine the teeth, I know this vet is not one I will go back to. A good vet knows that many health problems are due to poor dental care, and therefore a good vets often look at the teeth before doing anything. Thousands of dog owners reviewed Greenies, so make sure you read the reviews!
YOUR VET WILL SELL YOU THIS - I'LL SHOW YOU HOW TO SAVE MONEY!
When you care for as many dogs as I do, you love to try a supplements that comes highly recommended. Veterinary Products Laboratories Optima 365 for Dogs, 16-Ounce Optima 365 is one of those supplements that you will find many Veterinarians recommending for all breeds of dogs. For my older dogs that are less active and tend to put on weight, this is what I prefer to keep their coats looking great.
ULTRA-24 MILK REPLACEMENT
More than any other product for developing puppies I recommend Ultra-24 Milk Replacer. Ultra 24% Milk Replacer Go to any farm, no matter what kind of animal being bred, you will find a healthy inventory of Sav-a-Calf line of products. Ultra-24 is the answer to the special needs of developing puppies. It is the perfect substitute for mothers milk when a mother is not able to supply enough for puppies. I also use it, mixed with water to pour on the kibble for puppies up until about 6 months. It really makes a difference in the puppies development.

Additionally it is perfect for pregnant females.
DON'T FORGET ABOUT THE EARS
When is the last time you've given attention to your dog's ears? I get emails everyday asking about how to make a dog look muscular, but have never gotten a single email asking how to take care of the dog's ears! With your own ears, you can jam a Q-tip down and know when to stop; you can't do that effectively with your dog. Zymox Otic Enzymatic Solution for Pet Ears is a godsend for ear care. If you don't do anything else, read the reviews and order it along with the cleaning solution. Your dog will thank you! This a 5 star product. Over 5000 dog owner reviewed this item. Again, read the reviews!
BEST JOINT SUPPLEMENTS ON THE NEXT PAGE