CLICK PICTURES TO ENLARGE 🔍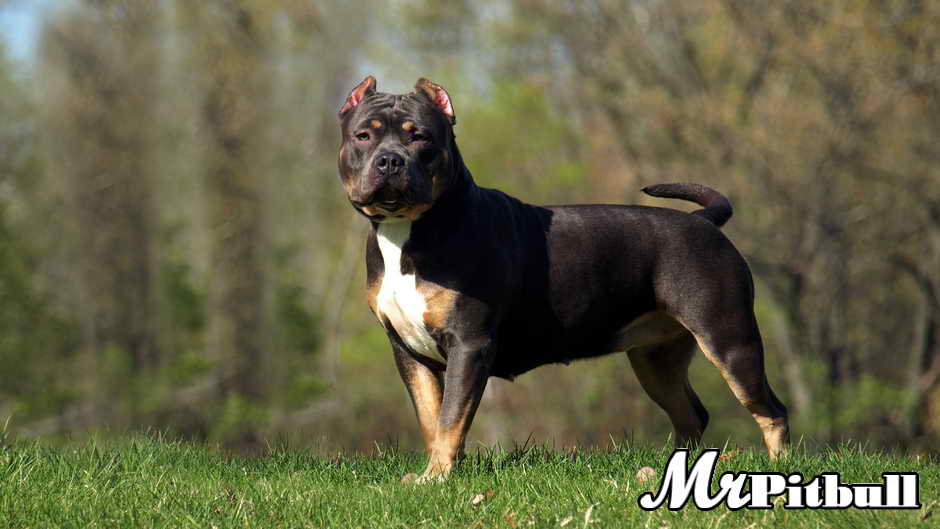 TRI COLOR PITBULLS
The moment you lay eyes on a Tri Color Pitbull (like Venus in the picture above) you realize you are looking at something special. There is a certain look about a Tri Color Pitbull that says "I am unique"! And of course Tri Color Pitbulls are unique, as very few are produced. Whenever you breed a Blue Pitbull with a Fawn Pitbull there is a chance that the litter will produce at least one Tri Color Pitbull. At least that is the hope. TRICOLOR PITBULL PUPPIES
TRI COLOR PITBULLS SELL FAST
I get a lot of calls asking if I have Tri Color Pitbulls for sale. You wouldn't believe some of the offers I have received, as many are willing to pay a handsome premium for the chance to own one of these beautiful dogs. Most people looking for a Tri Color, are so enamored by the thought of owning one, that they do not look at any other feature of the dog. If you have read much of my site, you know that this is a mistake. It is unwise to select a dog based on the color. For many people choosing a dog, that is exactly what they do.

BEST FOOD FOR TRI COLOR PITBULLS!
A SMART KENNEL DOESN'T BREED FOR COLOR
Early on, I listened to the advice of one of my mentors who suggested right from the start, that a smart Pitbull kennel, never breeds for color. If you are putting two dogs together for the sake of color, you are typically matching two dogs that don't go together well. When I match two dogs, I am looking for various characteristics I am hoping the pair will produce, and color should be and is the least of my reasons for breeding. We would all like to find Tri Color Pitbulls for sale that meets our needs. Yet we can't allow the desire to have a Tricolor out weigh the more important factors. I must admit that I myself have been guilty of that! In any event, I sincerely hope that you find a Tri-color Pitbull that meets your needs perfectly.
CLICK PICTURES TO ENLARGE 🔍
FEATURE TO LOOK FOR IN A TRI-COLOR PITBULL
Before selecting your dog, you do well to develop a check list outlining all of the important things to look for in choosing your dog. If you are looking for a dog to have as a family pet, there are qualities over and above the color to look for. First and foremost is the dog's personality. Even puppies 6 weeks old are demonstrating personality traits. A good breeder has taken the time to notice such in each puppy. This requires that the breeder has spent a good amount of time with the puppies way beyond feeding them and changing diapers (LOL). A good breeder is then going to inquire as to what kind of owner you are and then he will endeavor to point you to the dog that is best suited for your needs. ... HOW TO START A TRI COLOR PITBULL KENNEL!
IF YOU WANT TO START A TRI COLOR PITBULL KENNEL
If your goal in purchasing a Tri Color Pitbull is to start a Kennel, then your number one priority is going to be the dogs "structure" or their "conformation." In other words, you are going to want to pick a puppy that conforms best to breed standards. For example, look back to the top of the page and look at Bra'tac's legs. Notice how straight they are. Notice too, that his paws are tight. Meaning his toes are not splayed. Notice too, his short back. The aforementioned features are important in breeding desirable and healthy dogs. These elements out-weigh any desire to own a Tri Color Pitbull in the hopes of producing Tri Color Pitbull Puppies. READ HERE: ... LEARN HOW TO PICK THE BEST DOGS!
CLICK PICTURES TO ENLARGE 🔍
CHAMPION CALIBER TRI COLOR AT MR PITBULL
I want you to notice in all of the pictures on this page and with all the dogs in my kennel, how a dog should be built. You will notice that Mr Pitbull brand dogs have a beautiful topline, straight legs and feet that point in the proper direction; perfect conformation. Hallmarks of Mr Pitbull brand dogs. In some of the pictures on this page of Venus she is not quite a year old yet, and she already is showing promise of being a champion caliber dog.
LOOK PAST THE COLORING AND CHOOSE A DOG WITH GOOD PHYSICAL FEATURES
If you are looking for Tri Color Pitbulls for sale, I am certain that you will like Venus. Very few who are breeding Tri Color Pit Bulls today are producing Pits of her caliber. Whenever I get a chance I like to draw attention to one of the things that sets Mr Pitbull apart from most other kennels today, and that is; the beautiful Topline. Many backyard or inexperienced breeders are breeding dogs that are not of breed quality and therefore seldom produce a dog with nice conformational features such as you see here with Venus and most all Mr Pitbull brand dogs.
CLICK PICTURES TO ENLARGE 🔍
BLACK WHITE AND TAN TRI COLORS AT MR PITBULL
Most of the dogs on this page are a Black, Tan and White Tri color combination. Another popular color combination in Tri Pitbulls is Blue, Tan and White. These are referred to as Blue Tri Color Pitbulls or simply Blue Tris. Mr Pitbull has on occasion Blue Tri Pitbulls for sale too. They too are magnificent. I will have to look through some of my pictures and post up a few. I think the various color combinations that Pitbulls come in are one reason why Pitbulls are so popular today. Tricolor Pitbulls are considered by many to be the most beautiful of all the various color arrangements. Of course, beauty is in the eye of the beholder. So if you are in the market for a Pitbull of champion quality, from one of the Top Pitbull Kennels in the world; call Mr Pitbull now! SEE WHAT PUPPIES ARE AVAILABLE NOW!
CLICK PICTURES TO ENLARGE 🔍
Best Wishes...
---
Best Dog Food Buy On The Planet! #1 selling item in Pet supplies at Amazon
Dogtra Fieldmaster Brand Remote Training Systems
Dogtra 1900S 3/4 Mile Range 1 Dog Training Collar System
PETRAINER COLLAR AT AN AFFORDABLE PRICE
Garmin Sport PRO Bundle Dog Training
Educator E-Collar Remote Dog Training Collar
SUPER FUEL!
Bully Max!
Wild Alaskan Salmon Oil
Dyne High Calorie Dog Supplement
Ultra 24 Multi-Species Milk Replacer
K9-Power Puppy Gold Supplement for Puppies