Famous!
Mr Pitbull
Welcome!
Check Out Our
Pitbull Puppies
Mr Pitbull
is the way to go!
Expert
Advice!
Secrets of the top Kennels.
Pitbull care and Info.
HOW TO STOP A DOG FIGHT
WITHOUT GETTING BIT
Learn how to break up a dog fight without getting bit.
If you are looking for information on how to train your dog not to fight, read this article:
HOW TO STOP DOGS FROM FIGHTING
The Video to the left illustrates just how difficult it can be to breakup a fight involving pitbulls. The fight occurred at an event that involved professional handlers.
EVEN PROFESSIONAL HANDLERS HAVE A HARD TIME BREAKING UP A FIGHT
The people you see in the video are professional handlers. You will note that they are used to handling tough situations and that no panic is apparent. They know to work methodically. But yet it is apparent, they are not real sure as to what they should do.

AFTER READING THIS PAGE YOU WILL KNOW EXACTLY WHAT TO DO.
AND WHAT NOT TO DO!
CLICK PICTURES TO ENLARGE 🔍
YOU BETTER BE PREPARED
At an event where lots of dogs are, they would have done well to have a
BREAK STICK
handy. Even though four people are holding the dogs down, you can see that the dogs are still able to shake their heads and that damage is still occurring. Of course hindsight is 20/20.
In every fight I have broken up, I can think of what I may have done differently. No doubt everyone in that video has given a lot of thought as to what they would do next time.
IF YOU OWN A PITBULL YOU BETTER KNOW HOW TO BREAK UP A DOG FIGHT
The tips I relate are from my personal experience of owning and breeding Pitbulls and breaking up fights by myself, involving as many as a half dozen Pitbulls.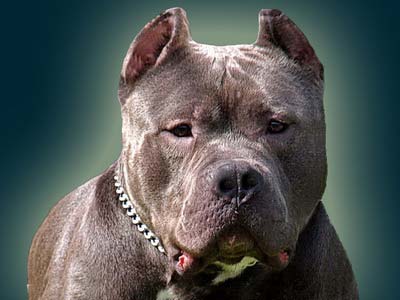 PREPARATION IS THE KEY TO STOPPING A DOG FIGHT
In researching for this article, I noted all kinds of opinions on what to do, and not do. I noted advice varied from one extreme to the other. Much of the advice given is downright dangerous. While still other advice was downright laughable.

Stopping a dog fight is very dangerous. Some so called experts advise that you use your instincts. What a joke. The last thing you want to do when attempting to stop a dog fight is let your emotions take control!
ANY DOG COULD BE ATTACKED AND WHEN YOU LEAST EXPECT IT
Knowing that no dog is immune from a dog fight, is the first step in prevention and preparedness if one should occur. Your dog could have no tendency to fight and still be ATTACKED by another dog.

Most of the fights that I have had to break up, started when I least expected it. You need a carefully thought out plan to safely stop a fight without getting bit.
CLICK PICTURES TO ENLARGE 🔍
BREAKING UP A DOG FIGHT IS EXTREMELY DANGEROUS
Before reading further, understand that breaking up a dog fight is very dangerous. Even an expert, can find himself with a serious dog bite, if not careful.

All of the techniques I relate, assume that you are physically up to the challenge. If you are by yourself, it is best to get help from others.

Even if your beloved pet is being attacked, you stepping into the middle of a dog fight, is most likely going to result, in both you and your dog being injured.
DO NOT PANIC!
DO NOT PANIC! If you panic, chances are you are going to end up receiving a dog bite. The type of wounds that can be inflicted on you by accident, are much more severe than a wound from a dog that bites a person as a signal or warning bite.

When dogs are fighting, they are way past the warning stage and are trying to inflict serious damage. Your hand or leg, caught in the wrong place at the wrong time, can end up with wounds that are much worse than a simple dog bite that involves a puncture.
DO NOT SCREAM AND HOLLER!
DO NOT SCREAM AND HOLLER! Unless you are simply trying to get others to help you. Screaming and hollering will not stop a dog fight! It will only intensify the action and wear you out. You need to conserve your breath and energy. It is very difficult to control your emotions when you are screaming.
DO NOT JUMP INTO THE MIDDLE OF IT!
When a fight begins, the natural reaction is to jump in and separate the dogs. HUGE MISTAKE!

Watch this clip with Cesar Millan and company. Normally, I enjoy the tips Cesar Millan provides. However in this instance, when two pitbulls begin to fight, panic seems to step in. Imagine the panic if you were by yourself.

THIS IS EXACTLY WHAT NOT TO DO.
It is a miracle if no one got bit!
STAY OUT OF THE ACTION
I would be surprised if someone didn't get bit in that dog fight. If they didn't receive a dog bite, they were simply fortunate that time. You want to stay well away from the action and where the dog's mouths are. Especially is this so when a fight first starts.

Another thing you noted in the video, is that as soon as two of them started fighting, other fights broke out, almost instantly. This is going to almost always be true with Pitbulls. There is no such thing as spectators among Pitbulls. When a fight breaks out, even dogs that are best friends can start fighting; especially pitbulls.
CLICK PICTURES TO ENLARGE 🔍
THROWNING WATER ON THEM!
I don't know about other breeds, but throwing water on two pitbulls fighting has never worked for me.
In fact one time Bra'tac (the dog pictured here) got into a fight with one of my most aggressive females (she started it too). He drug her into his kennel. At this point, she realized she was completely over-matched and was just wanting to get away.
They were positioned in a way that I could not safely engage. I took a high pressure hose and sprayed him. All he did is close his eyes and maintained his grip. Finally, I was able to grab the
BREAK STICK
and pry his mouth open. Water is not the answer.
DO NOT TRY PULLING THEM APART
If you want to create ripping wounds, simply try to pull them apart. When two dogs, especially pitbulls, have a grip, trying to stop a fight by pulling on them, will likely cause more damage, and seldom will it stop a fight. If you are by yourself, for sure, it is not going to stop them.

Researching for this article, I saw where some "experts" said to pull them apart by pulling on their tails! What a joke! Maybe that will break up a fight with poodles, but not with a breed like pitbulls that are bent on fighting.
STUN GUN WON'T WORK EIHTER
Only use a stun gun if you don't mind receiving a dog bite. A friend of mine had a Pitbull start fighting through the fence with another dog who was inside her kennel. He grabbed a HotShot cattle prod and poked her in the hind quarters. She quickly whirled around and came after him.

He said it took her, in the heat of the battle, about 5 seconds to realize it was her master, before she relented. I have heard many stories of folks who have received dog bites when using a cattle prod.
KICKING AND PUNCHING! LOL!
That might work with beagles, but you are unlikely to get two Pitbulls to stop fighting by kicking and punching them. You are only going to wear yourself out and then not have the strength needed to stop the dogs from fighting.
CLICK PICTURES TO ENLARGE 🔍
HERE IS HOW TO BREAK UP A FIGHT SAFELY
ALWAYS BE PREPARED! At home, in yard, house, and kennel, make sure you have the tools needed and within reach. I keep extra dog leashes hanging where they can be easily retrieved. I also keep a break stick within easy reach.

When a fight occurs, you don't want to be running around trying to find these tools. Breaking up a fight is very dangerous and should only be attempted by those who are qualified.
USE LOTS OF CAUTION
WALK DON'T RUN! When a dog fight starts, walk, don't run, get a leash and the BREAK STICK. By the time you get back to the dogs they should each have a grip on one another, if they are Pit Bulls.

WAIT UNTIL THEY HAVE A GRIP ON EACH OTHER.

Other breeds of dogs fight completely different than Pit Bulls and require even more caution when trying to break them up because they don't tend to grip and hang on like Pit Bulls. Therefore, they are seeking to continue to look for new places to bite, and you are more likely to receive a dog bite while they are thrashing about.

Before trying to break up the fight, take the time to examine each dog's position. Determine if one dog seems to be more of the aggressor or has the upper hand.
DO NOT BE TO QUICK TO JUMP IN
As difficult as it may be, control yourself! Do not step in until they have a grip and you have determined who has the advantage.

If you are by yourself, you will have to work methodically and pace yourself so as not to overreach your ability.

Remember, most breeds of dogs will stop fighting on their own, so don't be quick to jump in. Again, breaking up a dog fight is very dangerous.
WHAT IF BOTH DOGS WANT TO FIGHT?
YOU ARE IN A HEEP OF TROUBLE BOY! If you are by yourself and there are two dogs determined to fight, and you have no help coming, chances are, you will not be able to break them up. Not if they are two Pit Bulls bent on fighting.

USE YOUR BRAIN! Physically, you may not be a match for two powerful dogs in a fight. Therefore don't rely simply on your physical strength. Use your thinking ability! Stand back and consider your options. If no help is available and you cannot match up to the power of two dogs fighting, you may just have to wait for them to tire.

Once they both get a grip, they are not able to breath well, and fatigue does set in, although, it will take a lot longer than you may want. You may have to wait before stepping in. If no help is coming and you believe you have the physical ability, here is what you need to do:
ONLY APPROACH THE DOGS ONCE THEY HAVE A GRIP
YOU MUST HAVE A LEASH!
Walk and get at least one leash. Determine where you can tie the dog off to. Only approach when the dogs are engaged and have a grip. Stand back and determine which dog has the least favorable position.
If you can get to the collar of that dog, slide the loop end under the collar and then run the clip end through the loop, so that it creates a slip or noose. If you can't get to the dog collar, put leash around the dog's midsection just forward the rear legs. Run the hook end through the loop to make a slip knot. Then secure that dog to something.
YOU MUST SECURE ONE OF THE DOGS FIRST
If you can't get at least one dog secured, you may not be able to get them apart. Because if you can separate them, the unsecured dog will attack the dog you are dragging away.

Once you secure the disadvantaged dog, approach the dog with the dominant position from the rear and grab both legs. Pick up as high as you can. He will usually loose his grip and you may be able to drag him away.
CLICK PICTURES TO ENLARGE 🔍
WHAT IF ONE DOG WON'T LET GO
Sometimes however the one you have secured, will not let go after you have broke the grip of the dominant dog by lifting up his back legs.

If you selected the dog with the best position, once you break his hold, the other dog will often try to go for a better position. They will often release in order to try to get a better grip. That is your clue to pull away.
DO YOU THINK YOU CAN BREAK UP A FIGHT
Everything we have thus far discussed doing, can only be accomplished IF YOU ARE PHYSICALLY UP TO THE TASK. Most people, by themselves are not going to be able to handle two powerful Pit Bulls. And that is a fact.

I have heard many accounts of people trying to break up two Pit Bulls fighting. Most were not able to. Many told how they wore themselves out to the point of collapsing. And how they laid on the floor or ground gasping for breath as the fight continued all the while. And they all say the same thing:
I HAD NO IDEA HOW DIFFICULT IT IS TO BREAK UP A PIT BULL FIGHT
WARNING THIS VIDEO IS BRUTAL
This video demonstrates how difficult it is two break up two Pitbulls fighting.

In this video, really only one dog is wanting to fight, yet a crowd of people cannot break them up.

They try everything you have ever thought of to no avail. They scream and holler. They kick and punch. They beat with a broom stick. Throw water. Try pulling apart. Use a Stun Gun. Nothing works!
DID I MENTION HOW DIFFICULT IT IS
Watching that video emphasizes how difficult breaking up a fight is. Yet there is much that can be gleamed from watching it. First and foremost, we saw all the things that don't work. Had one man been there by himself doing all of those things, he would have been laid out flat exhausted, with zero strength to stop them.
OFTEN TIMES THE INJURIES ARE MINOR
Did you notice that as brutal as it was, both dogs survived and may have had only minor injuries. Their skin is much tougher than yours. If they inadvertently grabbed your hand for just a second, your injury could be devastating. Such injuries can result in tearing muscle and nerves, causing permanent damage. Hospital bills can run into the many tens of thousands. KEEP YOUR HANDS AWAY FROM THE ACTION!
DON'T HURRY
Too, we note that hurrying is not needed. The extra time it takes us to get our tools, wait for assistance, or wait for them to establish a position where you can engage, is not going to result in too many additional injuries. JUST HOLD YOUR HORSES.
DETERMINE WHICH ONE IS THE AGGRESSOR
We were clearly able to see that one dog was the main instigator. The other dog was not interested in continuing the battle. He was simply trying to defend himself. If we were to rush in as soon as a fight started, we may not be able to discern at first, which one to focus our efforts on.
MAKE SURE YOU ARE SAFE
We also note that neither dog had any interest what so ever, in attacking the people. They had a single focus of attacking the other hound. Generally, this circumstance means that you can engage and they will not come after you. I did say GENERALLY. Always assume you may be next. Now if it was a person that was being attacked, they may turn their attention on you. This is a subject for another article.
PROVEN TECHNIQUES WORK
Now, had I been there, I am 100% certain I could have separated them easily. I would have grabbed the back legs of the fawn (light brown) Pit and lifted until his front legs left the ground. In about 5 or 10 seconds he would have lost his grip. The second dog, in this case would probably have used it as his opportunity to escape. If he (loosing dog) was still wanting to fight, he would use this as an opportunity to try to improve his position, and when he released to do so, I would then simply have dragged the fawn Pit away.

Now if the second dog would not let go. I would let loose and patiently wait (and gather my strength) a little bit before trying again. I would not keep trying and wear myself out.
LIFT THE HIND LEGS
When you lift the back legs up, the key is to get the front legs off the ground. All of the power in the dog's bite is generated from his front shoulders. When the legs are lifted, he no longer has the driving force needed to maintain a good grip. If you don't have the height or strength to lift the front legs off the ground, it may take a little longer, but still generally works.

It is kind of like a pair of Vise-Grips. If you have ever used a pair, no matter how hard they are locked on to something if you lift (as it were) the back of the handle, you have the leverage to open the jaws.
FINAL WORD
Breaking up a dog fight is serious business. Severe injuries can and do occur. If the two who are fighting are not Pits, you are better off to just wait and they will quit by themselves, in almost every case. If they are Pits, don't attempt to break them up unless you believe you are physically up to it.

Be prepared. Have the tools needed and ready. Don't hurry. Keep your hands away from the action. Don't use energy on things that won't work. Best wishes.
HOW DO YOU BREAK UP A DOG FIGHT OF THREE DOGS OR MORE?
DON'T PANIC! Armed with the information I provide on the next page you should be able to safely break up a dog fight with three or more dogs..
On the next page learn how to break up a fight involving 3 dogs or more