Famous!
Mr Pitbull
Welcome!
Check Out Our
Pitbull Puppies
Mr Pitbull
is the way to go!
Expert
Advice!
Secrets of the top Kennels.
Pitbull care and Info.
CLICK PICTURES TO ENLARGE 🔍
HOW TO TRAIN A DOG NOT TO FIGHT
In this article we will explore techniques that will stop dog on dog aggression. You will learn what to do, so that your dog is never the instigator in a fight.
If you are looking for information on
HOW TO BREAK UP A DOG FIGHT - CLICK HERE!
I've received many emails requesting information on how to train a dog not to fight. Often times, their dog has recently got into a fight and now the owners are facing costly medical bills, and even lawsuits.
TAKE IMMEDIATE ACTION
An aggressive pet is likely to be held by authorities, and may even be in jeopardy of being put down, if deemed by a court to be dangerous. If your pet is aggressive you need to take immediate action. This information is based on my experience of owning, loving, and training dozens of Pitbulls.
DIFFICULT TO STOP AGGRESSION
It is common for some breeds of dogs to want to fight just about every dog they see. This is generally the norm for a Pitbull. Dog on dog aggression has been bred into the pitbull breed over the past one hundred years.

For this reason, it is hard to train a pitbull not to fight other dogs when this tendency has been hardwired into their DNA. Because this is not a learned behavior, but is part of the dog's genetics, it is very difficult to train a Pitbull not to attack other dogs.
STOP AGGRESSION IN IT'S TRACKS
In view of the aforementioned, most pet owners and even most trainers will not be able to teach a pitbull not to attack another hound. An owner may have spent considerable effort, time and money, yet still they note the aggressive tendencies persist.

Therefore, every time they take their dog for a walk, they walk on egg shells, hoping that another dog doesn't round the corner. They learn avoidance techniques, like crossing the street to avoid an approaching dog. These are band-aid techniques that simply mask the problem, but never get to the heart of the issue.

In this article I will tell you how real pros train aggressive dogs. You will learn how to stop aggression in it's tracks. Aggression will become a thing of the past.
CLICK PICTURES TO ENLARGE 🔍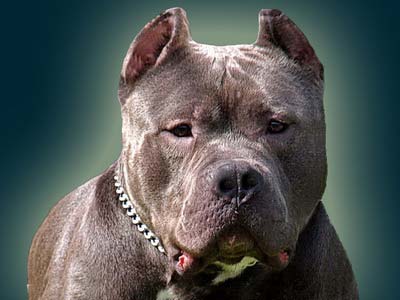 LOVING DISCIPLINE NEEDED
Before going any further I will tell you that stopping aggression calls for
DISCIPLINE
.
So, if you are someone who does not believe in discipline, the information in this article will not help you.
The Bible says at Proverbs 12:24 "The one holding back his rod is hating his son, but the one loving him is he that does look for him with discipline". Likewise, if you love your dog, you will not hesitate to train him with loving discipline.
EVALUATE IF PITBULLS ARE FOR YOU
If you are not able to discipline your dog, and they have aggression issues, you should get another breed that is not a threat to others. Pitbulls and other aggressive breeds are not for everyone.
A FIGHT CAN BE VERY COSTLY
Years ago, before learning of the
ADVANCED TRAINING TECHNIQUES
that I am going to relate, I let one of my dogs out in the backyard before bedtime. Just so happened that the neighbor had let his dog out at the same time. A few minutes later I could hear the two dogs fighting. I grabbed my dog at about the same time my neighbor was grabbing his dog.
Now mind you, there was a chain link fence separating our yards. But even so, his dog received some pretty nasty cuts that cost me $1040 in vet bills.
INNOCENT UNTIL PROVEN GUILTY? NOT IF IT IS A PITBULL
Obviously, his dog was just as guilty as mine. Both met at the fence and started fighting. Because mine was a Pitbull, I knew if the authorities were to get involved, who they would pin the blame on. Not wanting to take the chance that something could happen to him, and too, wanting to be a good neighbor, I paid for the damages. I decided then to see if there was some way of preventing that type of aggression from occurring again.
CLICK PICTURES TO ENLARGE 🔍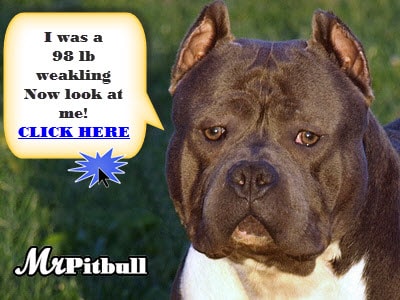 DEALING WITH DOMINANT AND AGGRESSIVE DOGS
I had always been a fan of Ed Frawley of Leerburg.com and his dog training videos. Watch one of his videos and you have no doubt that he is an expert dog trainer and knows what he is talking about.

I found on his site and ordered the Video entitled "Dealing with Dominant and Aggressive Dogs". Being familiar with "Remote Collar Training", I was familiar with some of the basics shared in the video.
A REMOTE COLLAR IS THE KEY
If you are not familiar with remote collar training you will want to read this article first: REMOTE COLLAR TRAINING This article covers the basics needed before proceeding with the advanced training methods required to stop aggression. In all training scenarios using a remote training collar, you use just enough stimulation to get a reaction from the dog being corrected. If they yelp, the correction level is too high. You just want the dog to feel discomfort, not pain. Yet when correcting a Dominant and Aggressive dog, you have to use full power.
15 MINUTES LATER I COULDN'T COAX HIM TO FIGHT
AGGRESSION IS A THING OF THE PAST
I decided to employ what I had seen in the video.

I had a new male dog at the kennel. I took a different dog that had been involved in several fights and after putting the collar on him, and turning the collar up to it's highest level, I put him in a stainless steel commercial cage.

I took no delight in what I knew was about to happen. I did however think back to the time my Dad said to me "Son this is kind to hurt me more than it will you".
USE TRAINING COLLAR TO STOP AGGRESSION
I then walked (on leash) the new dog past the cage, the dominant dog in the cage and with the collar on, went ballistic, trying to get the new dog. I gave an audible command to stop, which of course went unheeded. I then commanded again, but this time I coupled the command with about a three second long stimulation with the remote. The dog immediately stopped barking and backed up fast.

I waited about ten minutes and walked by again. This time the dog didn't bark, but stood at attention. I gave a verbal command for him to sit and when he did not, I hit him with about a one second jolt. The next time I walked him by, the dog in the kennel turned quickly and faced straight into the back corner of the kennel. He would not even look in the direction of the new dog.

From that point, just a few more practice sessions with simply a voice command was all that was needed.
CLICK PICTURES TO ENLARGE 🔍
MOMENTARY PAIN NEEDED TO STOP AGGRESSION
It is imperative that before beginning this kind of training you must make sure that both yourself and the dog is fully familiar with the collar. In other words, you have been using the collar to accomplish other training tasks first.

None of my dogs ever needs more than half power to respond in earnest to any other training task. So when they get hit with full power, it really has them paying keen attention. Obviously full power hurts.
HOW MUCH DOES A SHOCK COLLAR HURT
How much does it hurt? Frankly I don't know. But I do know this: A whole lot less than it would if because he wasn't trained, he got into a fight, and got half his scalp peeled off, or his leg broken, or his tongue bitten off, or injured bad enough that you have to put them to sleep.

AND IF YOU THINK THAT I AM OVER-STATING THINGS; YOU HAVE NO CLUE.

The advantage of the hi power shock is that the pain is simply momentary, and does no lasting damage (as long as the dog is healthy).

I'VE NEVER HAD A SINGLE VET BILL BECAUSE OF USING A TRAINING COLLAR.
HOW WELL DOES IT WORK
Notice how effective remote collar training is for stopping aggression. Watch the video to your right.

Note the fawn color Pitbull with aggression issues. Obviously, if another dog came within reach, there would be a fight. Notice however the Blue dog setting right next to him. The blue dog sits calmly and does not even glance at the Fawn color Pitbull.

Why is that? Is it because he is scared? No, absolutely not. He has been well trained.
STOP AGGRESSIVE BEHAVIOR IN IT'S TRACKS
Using the technique outlined here, I am positive I could have the fawn dog acting without aggression, just like the blue dog, in just a few short training sessions. REMOTE COLLAR TRAINING When training a dog with aggression issues, you want the dog to know that if he even glances in the direction of the other dog he is going to be in trouble. In the video above, you noted that is exactly how the blue dog is trained. Once your dog has been trained in this fashion, you can have confidence that you can take him on a walk and he is going to follow your every command and aggression issues will be a thing of the past.
DOG AGGRESSION CAN BE FIXED
If your dog has attacked another dog and you are facing a court case that could result in your dog being confiscated and put to sleep by the authorities, employing the information here, you will be able to demonstrate that they no longer have aggression issues.

On a number of occasions I have had to advise people to do such. If you don't think it is humane, then think of the alternative.
TAKE ACTION - DON'T DELAY
Additionally, in such a case, you would do well to take your dog to several different licensed behavioral specialist and have them testify to your dogs training. You could even video your dog as other dogs are walked before him clearly showing he no longer has aggression issues. Such would be powerful testimony that Fido is no longer a dangerous threat.

If your dog has aggression issues, I suggest going to Leerburg.com and getting a few of their videos. Of course, you may be able to find videos on YouTube too.

I was just over to some ones house and they had two small dogs that were completely out of control. They would not stop jumping on me and my companion. The owner was completely frustrated as they tried in vain to stop the dogs from jumping. The owner will never have those dogs under control and will be dealing with their disobedience until the dogs dies. In fifteen minutes with a remote dog training collar, I could solve the problem.
CLICK PICTURES TO ENLARGE 🔍
TRAINING COLLARS HAVE THE POWER TO STOP DOG AGGRESSION
There are hundreds of choices when it comes to remote training collars. I note that Amazon.com has many remote training collars for $25 to $50 price range. I can assure you, that they are nothing more than glorified toys and will not give you the level of stimulation or dependability need when dealing with a dominant and aggressive dog. I like the
Dogtra Fieldmaster 1 Dog LCD Training Collar
This is the collar that Leerburg recommends. If I had only one dog to train, I would purchase this one. It has the power needed to stop aggression.
TWO COLLAR REMOTE UNIT
For those who have more than one dog, this is the unit to go with or most current model. Dogtra FieldStar Two Dog Remote Training Collar It has the ability to control two dogs at a time, which is an important feature if you have more than one dog. It is professional grade and I can guarantee you that it has the power needed to train a dog to stop dog on dog aggression.
REMOTE TRAINING COLLARS HAVE BECOME VERY POPULAR
When I first started recommending REMOTE TRAINING COLLARS very few people were familiar with them, and many people thought they were cruel and sadistic.

Since then, remote training collars have become very popular. As more and more people have begun using training collars, that incorrect perception has been dispelled.


LOWER PRICE COLLARS WORTH LOOKING AT
Today, there are hundreds of manufactures making remote collars. On Amazon.com you can read thousands of reviews. Spend time reading the reviews to dispel any thoughts that they are somehow inhumane. After reading many of the reviews, there are a couple of remote dog training collars in the lower price range that I would also recommend if price is a consideration for you. Take a look at the SportDOG YardTrainer 105 Dog Trainer, SD-105 and the PetSafe Yard & Park Remote Dog Trainer, PDT00-12470 Both have received excellent reviews.
Why not read all of Mr Pitbull's training pages!