Famous!
Mr Pitbull
Welcome!
Check Out Our
Pitbull Puppies
Mr Pitbull
is the way to go!
Expert
Advice!
Secrets of the top Kennels.
Pitbull care and Info.
CLICK PICTURES TO ENLARGE 🔍
HOW TO BREAK UP A FIGHT INVOLVING MULTIPLE DOGS
The information below will help you determine how to break up a dog fight involving more than two dogs.
The information is only relevant when used in conjunction with the information on the preceding page
:
BREAKING UP A DOG FIGHT
Remember, breaking up a dog fight is very dangerous. Serious injury can occur in a split second. Do not attempt to stop a dog fight or try any suggestion given here, if not up to the challenge.
DIVIDE AND CONQUER
I let my dogs out of their kennels in groups that vary in number. Most of the time when I have a lot of dogs out, I am right there to interact with them. If a fight breaks out between two of the dogs, you have to in this case be quick to gather up any dog that has not yet gotten involved.

Your natural reaction is to run to the two dogs fighting to break them up. This is a mistake. Instead, focus your attention on separating from the group any dog not yet involved. You have to move quickly, as all the dogs will start fighting in a matter of seconds.
CAREFUL OBSERVATION IS MORE IMPORTANT THAN HURRYING
If three or four dogs or more are in one fight (sometimes they pair off and fight), just stand back and watch for an opportunity where one dog becomes disengaged from the fight.

This happens all the time, as the dogs that rush into a fight already started, really do not have a clear objective as to why they are even fighting. So they might bite on one dog for a few seconds and suddenly switch their focus to another dog. When that happens, you have to be ready to drag that dog away.
YOU HAVE TO BE ABLE TO TIE OFF EACH DOG
If three, four, five or more dogs is in one fight, when you separate one dog and start to drag it away, oftentimes another dog will latch on to the dog you are removing, making it impossible to remove that one from the action. That is why you want to tie off any dog not yet involved first, so they cannot pursue the dog you are removing from the fight. If you don't tie them off, you will never be able to break up a fight involving multiple dogs, as it becomes a vicious circle.

Even better; separate each one into a cage or room. Do not put two in one room. Even if you believe that those two would not fight, just listening to the action, is enough to make them want to fight.
CLICK PICTURES TO ENLARGE 🔍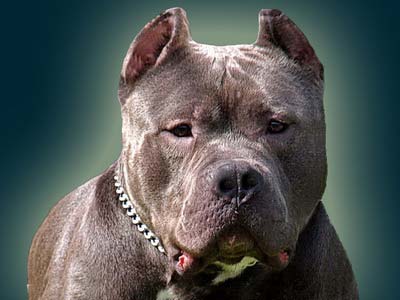 WHAT IF YOU CAN'T BREAK UP THE FIGHT?
If there are two or more reasonably fit people, using the techniques described, you should be able to break up any fight. That is as long as you pace yourself, do not hurry, keep your senses, and do not panic.

But if you are by yourself, inexperienced, and out of shape, your best bet is to stay out of the fight and wait until you have gotten help. Every fiber of your being will be telling you to hurry, jump in, and do something; this is a mistake! You will simply end up accomplishing nothing and in all likelihood get hurt yourself.
SEVERE INJURY CAN OCCURE TO YOU IN AN INSTANT
I've heard people say that in order to stop their beloved dog from getting hurt that they where willing to take a dog bite if need be. They obviously have no clue as to the damage that can be done in just a split second. Spend some time looking at the injuries suffered in the pictures on this page: CLICK HERE TO SEE SERIOUS INJURIES SUSTAINED WHILE ATTEMPTING TO BREAK UP A DOG FIGHT
There are several pages, full of experiences and pictures of those who were bitten while trying to break up a fight in the above link. Take the time to read the experiences of those who tried to break up a fight and got bitten, as this will help you to learn what to do and not to do. I learned a lot myself from reading them, and you can too.
MAKE SURE YOUR HELPER IS PREPARED
Use the time you wait or help to formulate a plan. When help arrives; immediately stop whatever you are doing. Do not allow someone who may be unfamiliar with the danger, to get involved and perhaps bit. Calmly explain the plan of action.

Taking time to do so, is time well spent. The few seconds spent doing this will enable you and your helper to work together. Your helper should not approach the fight until you have established a controlling position on one of the dogs.
USE A BREAK STICK
The easiest way to separate the dogs is with a BREAK STICK. If you have prepared beforehand you will have one at ready. The Break Stick works nicely to open a dog's mouth allowing the fighters to be separated.

A break stick should only be employed to break up a fight involving a Pit Bull. They are generally in-effective with non-Pit Bull breeds, as they do not tend to "lock on". Trying to break up a fight with a break stick when dogs to not have a firm hold, will likely result in a bite to yourself.
CLICK PICTURES TO ENLARGE 🔍
REMOVE THE EASIEST DOGS FIRST
First, start by removing any dog that is not being bit by another dog.

When multiple dogs are fighting, a dog that joined the fracas late, will lock on to any fur it can find, but yet may not have anyone biting it. Remove that one first.

Put a leash on it and have your partner secure the dog inside if possible. Now evaluate your next move.
HOW TO USE A BREAK STICK
After removing the easiest actors, Select the easiest of those who are paired. Go to the dog that is the most aggressive (or the one with the best position) of the two you are trying to break apart. Approach from the rear or side, grab the top of the collar with your left hand (if you are right handed) and straddle the dog. Lock your legs firmly behind the rib cage and just before the back legs. Make sure you have a firm hold.

Then instruct your partner to do the same on the other dog. Watch your partner carefully, giving them whatever instruction and encouragement needed in a calm manner. Once they are positioned, take the BREAK STICK with your right hand and insert the flattened end into the mouth of the Pit you have a hold of. Insert it close to the jaw hinge. Once inserted twist the Break Stick like you would a motorcycle throttle. The leverage of the Break Stick will cause the mouth to open, thus allowing you to pull your dog away.

Having a second Break Stick may come in handy if the other Pitbull does not let go. You may have to use the Break Sticks in unison. In many cases, if you use the Break Stick on the Pit with the best position, the other one will want to change his position to get a better grip, and you will be able to pull them apart.

Once you have the easiest two dogs separated and put away, then move to the next two dogs. The confidence you gained and anything you learned will be helpful when trying to separate more powerful dogs.
CLICK PICTURES TO ENLARGE 🔍
YOU DON'T HAVE A BREAK STICK
If you do not have a break stick; CHOKE THEM OUT. When they are fighting, they are gasping for air. If they can't breathe they can't fight.

You can try twisting their collar by hand. However it is better if you have something like a hammer handle, that you can slip under the dog's collar, on the back of the neck, and give it a twist like a tourniquet.

Use caution however! You don't want to kill the dog. And you don't want to use so much force that the collar gives way either.
CHOKE THEM OUT AS A LAST RESORT
From my experience, it does not take long when ample force is applied for them to run out of air, and let go. Much caution is needed. But without a break stick, this may be your only option.

If you are ever seen a UFC fight, you know that the "rear naked choke" is the fasted and easiest way to stop an opponent. It is just as effective on a Pitbull too. Be very cautious obviously.

One more thing: If you choke the dog out, it will not be able to walk. You will have to either drag it or carry it away. If you drag it away by the collar, you may inadvertently finish the dog off. If you have to drag it by the collar, grab the collar on the throat side, as you drag this should pull the collar away from their windpipe. BE CAREFUL!
WARNING THIS VIDEO IS VICIOUS
Note in this video that it is not easy to break up two Pits that are bent on fighting! So imagine what you are in for if several more were to join the fray!

All of the screaming, people running around, and blows to the dogs, only intensifies the action.

If this happens to your dog, would you be ready?
JUST LIFT UP THE BACK LEGS
On the preceding page I outlined that if you did not have a Break Stick, lifting up the back legs is extremely effective in separating them. In the Video, you noted that beating them was pointless. Once they started lifting the back legs off the ground, they lost their grip and were separated.

So right from the start we would want to established control of everyone on the scene (perhaps harder to do with people than with the dogs). And then we would CALMLY give instructions to one person to grab the back legs AT THE ANKLES, while we did the same with the other combatant. They would have disengaged from each other in seconds. It took much longer in the video, because the Pit was in affect able to use the person holding it at the mid-section as a brace. Lifting from the ankles, the Pit would have been powerless.
KEEP THEM SEPARATED
Once you have them apart, you have to keep them apart. That too can be a challenge, especially if they don't have a collar. You can drag them 50 feet apart, but if you loose your grip, they can charge right back in again. I've had that happen more than once.

In the case in the video, someone else could have grabbed the collar. But if you are by yourself, you may not be able to do so quickly enough when you release the legs. If they don't have a collar, your only option may be to pin them to the ground and sit on them. Of course, if the other one were to break loose and come back; GET OUT OF THE WAY!
ALWAYS BE PREPARED
It is a beautiful day, as you and your dog are enjoying a little exercise and time together during a walk. All of the sudden out of nowhere a loose dog charges your dog. What should you do? If you are taking your dog for a walk, I hope you are prepared for such an emergency. You do well to carry with you a can of HALT pepper spray. HALT! DOG PEPPER SPAY This is the same pepper spray used by the US Postal Service since 1966. It will stop most dogs from attacking. I am not completely confident that it would stop a Pit Bull, but I believe it would stop most dogs. It would certainly stop a dog that was simply running over to your dog to sniff. Generally that is what occurs, which will give you time to spray before the action begins.
CLICK PICTURES TO ENLARGE 🔍
PEPPER SPRAY IS EXTREMELY DANGEROUS TO A DOG
I will mention this about Halt! Pepper Spray; it is not a very powerful formula. Dogs do not have the same kind of tear ducts that humans have. Regular pepper spray can result in permanent damage to dog's eyes.

We might first say, "who cares, better him then me". With a charging Bear, this is true. Especially since if you spray a Bear, you are not likely to get sued. Spray someone's Beagle that is simply running over to check your dog out, and you are very likely to end up with a lawsuit.
WHILE ON A WALK
While on a walk, it is always good to be prepared. Again, "better to be safe than to be sorry". Some have told me that they have had good success scaring away an approaching dog with an air horn powered by a can of compressed gas. LOUD AIR HORN If you have ever heard one, especially one pointed at you from about 10 feet away, they are extremely loud and would startle anything. Would it be enough to stop a charging Pit Bull? I don' t know. If you have had an experience of such, I would like to hear it.

Some People will carry a large umbrella. They use it like a walking stick and when approached by a stray, they open the umbrella suddenly. They say that doing so can startle an approaching animal and act as a deterrent.
A GOOD LEASH HELPS
You may pay a little more for this
Brown 6 Way European Multi-functional Leather Dog Leash, Adjustable Schutzhund Lead
, but it is worth every penny and then some.
This is Police dog handlers leash. It gives you a lot of adjust-ability and has several clips on it which makes it perfect for fastening a dog several different ways and at the same time can be secured to a fence or a tree to tie the dog off. If you ever have to break up a dog fight by yourself, you will be very happy you have this leash.
WORD IN CLOSING
Breaking up a dog fight is a very dangerous activity. The damage that can be done to human flesh in just an instant, could cause life-long injury. Most people should never attempt to break up a fight. In most cases it is best to stand back and wait until the fight is over. If however you feel you must get involved; it is best to be well prepared. In this case; Knowledge really is power.
EDITORS NOTE:
Pack structure training is the key to stopping dogs from fighting to begin with. Make sure you read my article on pack training. This article is essential for any breed of dog.
PACK STRUCTURE TRAINING
Why not read all my Pitbull training pages