CLICK PICTURES TO ENLARGE 🔍
RAZOR'S EDGE PITBULL
The picture above is without a doubt my favorite picture of Bandit. (CLICK OR TAP ON PICTURE TO SEE IN HD) This picture says everything about him. You can look into his eyes and see he is loyal. Bandit is very shy and just wants to be loved. He is one of the most delightful dogs I have ever owned. Bandit just loves to be shown attention. Yet he never demands it. His appearance says he is a Razor's Edge Pitbull with few equals. I hope you like him too! I very much hope you enjoy the many pictures I have included of this incredible looking Razor Edge Pitbull.

I invite you to take note of his very short back, and beautiful topline. Bandit is a very compact Pit. Remember that Bandit is the son of Cai, a direct descendant of Cairo, the most famous of all Razor's Edge Pitbulls. Cai along with his litter-mate brother Lil Ro, are the two most famous of Cairo's descendants. Bandit is as pure a Razor's Edge as you will find.
WHAT IS RAZOR'S EDGE
Many people ask "what is a Razor's Edge Pitbull?" Well take a close look at Bandit because he is the ePITome of Razor's Edge. He has all the characteristics that today's Razor's Edge Pitbull fanciers are looking for. Many people today have been attracted to the Pitbull breed because of their unparalleled temperament and unequaled loyalty. But yet, today's Pitbull buyers are not looking for a dog that can win a fight in a Pit. They love their dog and would not dream of doing them harm. Therefore they want a dog that has had aggressive tendencies bred out. This is one of the characteristics you will find with Razor's Edge. One look at Bandit and you can see that is the case. So too, people love the looks of Razor's Edge Pitbulls. The shorter compact stance, the wide body, and the bigger heads, give Razor's Edge Pitbulls a look that is unparalleled by any other breed.
CLICK PICTURES TO ENLARGE 🔍
RAZOR'S EDGE IS A GENTLER PITBULL
Here is some information you may not be aware of: The Razor's Edge Pitbull bloodline was started in an effort to save the Pitbull breed from extinction. For a number of decades, Pitbulls were being bred to produce the ultimate fighting dog. Over time, features that made pitbulls suitable for fighting shaped the breed. Sadly some of those qualities have made the breed prone to aggression. That aggression has caused many cities, municipalities and even countries to ban the breed. Razor's Edge Pitbulls were bred in an effort to take the breed back from those who would employ them in fighting and return the breed to a gentler, loving companion, that many prefer. It is the hope of many Pitbull lovers that the temperament of the new Razor Edge Pitbull will help to stem the tide of communities that would ban this loving breed.
RAZOR'S EDGE HISTORY
Sadly, some have sought to criticize Razor's Edge Kennels for (as they put it) "tampering with the breed." Yet the fact is; the entire history of the breed has been based on diversity. The results is; all of the different varieties seen in the breed today. Some prefer Red nose, while others like Blue. Some like them spotted, while others, speckled and hued. Some favor gameness, yet on that not all can agree. But no matter what one's individual preference may be, each has the right to his own greed. And for thousands today the choice is the Razor's Edge Pitbull breed.

So if you are looking for either Razor's Edge or Gotti of champion quality like Bandit, from one of the Top Pitbull Kennels in the world; call Mr Pitbull now! SEE WHAT PUPPIES ARE AVAILABLE NOW!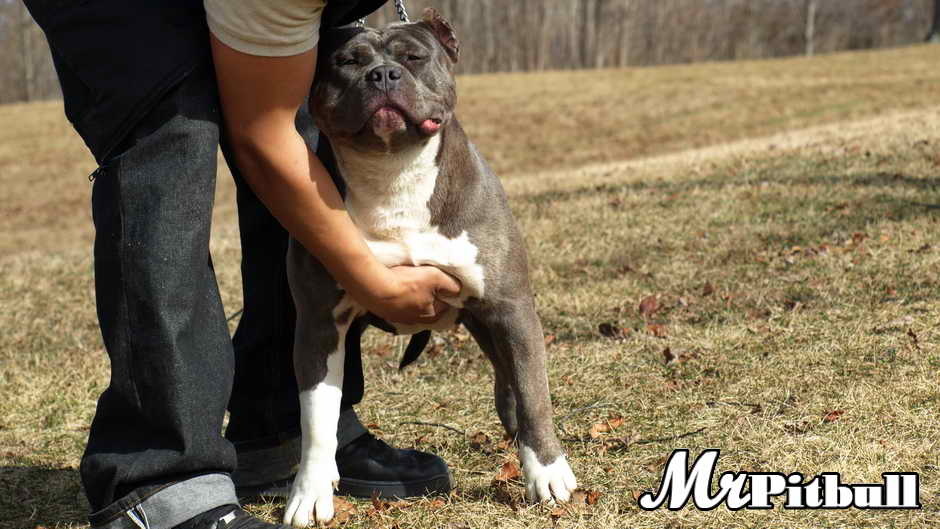 CLICK PICTURES TO ENLARGE 🔍
CALL MR PITBULL FOR A RAZOR'S EDGE PITBULL
If you have any questions in regards to any upcoming breedings with Bandit, don't hesitate to contact me. Remember that Bandit is the Grandson of Cai, a direct descendant of Cairo, the most famous of all Razor's Edge Pitbulls. Cai along with his litter-mate brother Lil Ro, are the two most famous of Cairo's descendants. Bandit is as pure Razor Edge as you will find.
WHY HAVE RAZOR'S EDGE AND GOTTI BEEN SO SUCCESSFUL
Why have Razor's Edge and Gotti been so successful? In two words; FORESIGHT and MARKETING. Dave Wilson of Razor's Edge and Richard Barajas of Gotti saw the the need of a changing landscape for the Traditional Pitbull. They both loved the breed, but yet knew that the breed could not continue to be dominated by those who bred the dogs for fighting. Knowing that a good segment of the population (young men) want a dog that looks bad to the bone, but yet with a mild temperament; they saw an opportunity to reshape the breed.
CLICK PICTURES TO ENLARGE 🔍
RAZOR'S EDGE AND GOTTI TAKE DIFFERENT PATHS TO STARDOM
Their paths to fame however were much different. Dave Wilson of Razor's Edge shaped his line through selective breeding. Over the course of a half dozen generations or so, he had a product that he was confident the public would desire. Richard Barajas of Gotti actually bought his foundation dog, Juan Gotti (for which Gottiline was named) from Grey Line Kennels for $1300. As Juan Gotti began to mature, Richard knew he had something special. Of course you can have the greatest dog in the world (people contact me all the time making that claim) but if the dog isn't marketed, it continues to reside in anonymity. Today, those who enjoy both Razor's Edge and Gotti line pitbulls are delighted that both Dave and Richard were good at marketing their brands.
BLUE RAZOR'S EDGE PITBULLS ARE HIGHLY SOUGHT AFTER
One look at Bartender (picture above) and it is easy to see why so many people are looking for Blue Razor's Edge Pitbulls. Whenever I take him for a walk, everyone comments on him. As they approach (usually very apprehensive) they are quite surprised by his mild disposition. They don't expect that a Pit Bull that looks like him to be so friendly. He may have that look that says "back away slowly," but his charm will win over even the staunchest critic. The fact is most Blue Razor's Edge Pitbulls are mild mannered. If you are looking for a Blue Razor's Edge Pitbull, you will be very happy with their temperament.
CLICK PICTURES TO ENLARGE 🔍
WHY DO PEOPLE WANT BLUE RAZOR'S EDGE PITBULLS?
Taste great or less filling? A matter open for debate. As Blue Pitbulls have become more popular, I have often tried to determine what is the single biggest reason for the rapid rise in popularity? Appearance or Temperament? Initially, I think most are drawn to the breed because of appearance; I know I was. Take a minute to look back at Bartender's appearance. The first thing that comes to mind is "I want him on my side." When push comes to shove, he looks like the kind of dog that will have my back. A lot of people want a dog that can protect them, if called upon. If a burglar looks through the window and catches a glimpse of Bartender, they are avoiding my house, that is for sure. Yet, when you talk to anyone who owns a Blue Razor's Edge Pitbull, the first thing they talk about isn't "protection"; it is loyalty. No dog has the loyalty and loving disposition of this breed. Speak to anyone who owns one and you will sense a passion for the breed unrivaled by any other breed of dog.
I MUST ADMIT "RAZORBACK" DOES HAVE A RING TO IT
Now interesting, there is a dog called an Rhodesian Ridge-back that is known for having a line of hair on it's back that runs in the opposite direction of the rest of the coat. It is caused by a genetic flaw, but for some reason breeders breed for that feature. But I don't think that is what people are calling about.
COULD A RAZORBACK PITBULL BE A RAZOR'S EDGE
Being that there is no bloodline that I am aware of called Razorback, I conclude that what they are really calling for is a Razor's Edge Pitbull. Still I can't help but have a little fun with it. In just a few short years Razor's Edge Pitbulls have taken the country by storm. Their unique look, with the wide body and big heads, has drawn a lot of attention and it is no wonder why so many are looking for Razorback Pitbulls (lol).
Best Wishes...
---
Best Dog Food Buy On The Planet! #1 selling item in Pet supplies at Amazon
Dogtra Fieldmaster Brand Remote Training Systems
Dogtra 1900S 3/4 Mile Range 1 Dog Training Collar System
PETRAINER COLLAR AT AN AFFORDABLE PRICE
Garmin Sport PRO Bundle Dog Training
Educator E-Collar Remote Dog Training Collar
SUPER FUEL!
Bully Max!
Wild Alaskan Salmon Oil
Dyne High Calorie Dog Supplement
Ultra 24 Multi-Species Milk Replacer
K9-Power Puppy Gold Supplement for Puppies