Famous!
Mr Pitbull
Welcome!
Check Out Our
Pitbull Puppies
Mr Pitbull
is the way to go!
Expert
Advice!
Secrets of the top Kennels.
Pitbull care and Info.
TREATMENT FOR DOGS WITH SKIN PROBLEMS
CLICK PICTURES TO ENLARGE 🔍
IDENTIFY YOUR DOG'S SKIN PROBLEM
I get a lot of emails from people who's dog is experiencing a variety of skin problems. One thing that I have found from my own experience of taking dogs to the vet for repeated visits; it is hard to correctly diagnose the cause of some skin issues.

I've also learned something else; no matter how good the medicine is, if the issue has been misdiagnosed, the condition is not going to improve. With the right diagnoses, and then the right medicine, many skin issues are quickly cured. However, some skin problems cannot be cured and can only be managed.
ON THIS PAGE YOU WILL LEARN SEVERAL EFFECTIVE TREATMENTS
On this page I answer questions from my mailbox concerning dogs with skin problems. We will examine several issues that are common, yet may not be easy to diagnose. I will share treatments that I use and that work! As always, before attempting any treatment, it is best to see a vet and get a professional opinion. Some skin problems that dogs may have can be easily identified with a microscope.
Randall From Kansas City Kansas asks: I have a litter of puppies and all of them have broken out with small bare patches on their stomachs. My vet says that it is Mange and prescribed a treatment, but the skin problem is getting worse. What should I do?
IS YOUR DOG'S SKIN PROBLEMS MANGE OR SOMETHING ELSE?
Randall, sorry to hear your puppies are having a problem and in need of treatment. In order to determine the nature of the problem did your vet do a skin scrapping and get results from the lab or from a microscope view? If you are not sure how he concluded the skin problem was mange, you need to ask. What medication did he prescribe?

The fact that the issue is primarily on their stomachs, is an indication that it is not Mange, but is likely a Staph infection.
DIFFICULT TO DIAGNOSE SOMETIMES
I had a litter once with the same skin condition you describe. The Vet looked at it and said it was Mange without even doing a skin scraping. After several weeks the skin condition had not improved so I took them to a second vet who said also said it was Mange. When it still did not improve, I took them to a third Vet. This Vet said it was a Staph infection and prescribed an antibiotic...
CLICK PICTURES TO ENLARGE 🔍
STAPH INFECTION
After taking the antibiotic, in a few days there was marked improvement. Within a week the spots were gone completely and the puppies health restored.

Turns out, this kind of skin issue is common with puppies. You can't clean the whelping box fast enough. There were 10 puppies in the litter and one of the puppies was always going to the bathroom. A Staph infection can develop and spread fast among the puppies. Of course in your case I am not saying that this is the cause of your puppy's loss of hair. But I would ask the vet how it is that he or she ruled out a Staph infection.

Beth from Tacoma Washington asks: I have a beautiful Pit Bull named Neva who is always itching. I don't know what is causing the itching and have grown very concerned because I can see that it is really bothering her. What do you think it could be?
COULD YOUR DOG'S SKIN PROBLEM BE CAUSED BY AN ALLERGY?
Beth, there is really no way for me to know, as the skin problem could be a number of things.

I am certain you have had Neva to the Vet, and apparently the treatment prescribed isn't working. Therefore I will simply mention the most likely culprits and encourage you to seek out another opinion from either another vet or someone who specializes in allergies.
FOOD ALLERGIES ARE A COMMON SOURCE OF SKIN PROBLEMS
In the meanwhile, I would switch to a different food source. Many breeds of dogs are very sensitive to food allergies. Much of today's commercially prepared dog food is loaded with high concentrations of allergy producing bi-products. These can have a devastating effect on your dog. I would try:

Natural Balance Grain Free Limited Ingredient Dog Food

Switching the food you are feeding, may allow you to see if perhaps it is a food allergy. Corn and grains are a common source of allergy and are found in most brands of dog food.


CLICK PICTURES TO ENLARGE 🔍
IF IT IS AN ALLERGY - GO GRAIN FREE
Natural Balance is grain free and a favorite among breeders for dogs with allergy health problems that most often is demonstrate with itchy skin. Too, some dogs may be allergic to Chicken, as well. Many skin and itching problems can be solved by switching foods.

A root causes of many skin issues lies in the pedigree. Most backyard dog breeders do not have a clue as to what they are doing. Many dog breeders think that inbreeding is the key to success. Little do they know that inbred dogs are very prone to allergies because present in every inbred dog without exception is a weakened immune system. This is a scientific fact.
CERTAIN TYPES OF FOOD ALLERGIES ARE GENETIC
Of course I have not seen your dog's pedigree, just mentioning what to look out for in the future. If the allergy is genetic in nature, you may never be able to cure her completely. You will have to experiment with food sources, and always be careful of what she eats. If you suspect that it is food related, you do well to consult with a Vet who specializes in allergies. They will be helpful in identifying what you should avoid. One thing for sure, if the skin problem is at all chronic, Neva should never be bred and should be spayed, as immune deficiencies are passed on. Let me know if her health improves after you switch foods.
ALLERGY SUFFERS - SWITCH TO A ALL RAW MEAT DIET
If it is determined that your dog has a food related allergy, as many dogs do, by all means start feeding an all Raw Meat Diet. This is what I feed all my dogs. You cannot count on a dog food manufacture to use the same sources and processes in the way they make food. With a Raw Meat Diet you can control completely what your dog is eating. There are many other benefits to feeding this way as well. Make sure you read my page on it.
RAW MEAT DIET FOR ALLERGY SUFFERERS
Randy from Albuquerque asks: I have a blue Razors Edge Pit Bull named Navajo, he is an awesome dog. However he does have a skin problem. In the summer his fur will have small patches that will fall out. My vet says it is common with blue dogs. What can I do?
MANY SKIN PROBLEMS CAN BE IMPROVED WITH THE RIGHT SUPPLEMENTS
Randall, I like the name of your dog. Sounds like you are honoring some of the Native Americans from your area. The skin problem you describe, is indeed a common issue with many Blue Dogs. I had a dog that had the same issue. I would give him
Animal Naturals K9 Show Stopper
and in about a week the spots would be gone. See if that works for you. I would also try
Grizzly Salmon Oil All-Natural Dog Food Supplement
.
MANY SKIN ISSUES ARE SOLVED WITH A GOOD SUPPLEMENT
Sadly the food that most people feed their dogs is very unhealthy. Commercial dog food is primarily made of useless fillers. Therefore a dog is going to naturally suffer many health related issues because of a poor diet. Anyone who knows anything about dogs will tell you, that a dog's coat will tell you the health of a dog. A shinny coat is an indication of a healthy dog. A good supplement can make all the difference in the world
Kyle from Baton Rouge asks:
I need your help desperately! I have a 4 year old Pit Bull named Noodles. The problem is she has broken out with bumps on her stomach and some on her face. At first there was just a few of them and now they are spreading and itching. I talked to some people that told me to rub kerosene all over her. I am really at a loss as to what to do. She is itching them like crazy. Can you help me please?
BE CAREFUL WITH YOUR TREATMENT FOR SKIN PROBLEMS
Kyle, real sorry to hear that Noodles is having some skin problems. Kyle, you failed to mention, what your Vet had to say as the cause of the skin issue. I can only conclude that in your haste, you overlooked including your Vet's report and the prescribed treatment. I know that as an animal lover the first thing you would have done is taken her immediately to your vet as soon as you noticed.

Have you let your Vet know that the medication is not working? It may be that Noodles was misdiagnosed and further examination may be needed.


SOMETIMES A SECOND OPINION IS REQUIRED
I would not hesitate to employ another Vet for another opinion. What did the skin scrapping show when the Vet examined her? Certain skin conditions are not always apparent at the time the skin sample was taken. Additional visits may be needed in order to find undeniable evidence as to what is causing her problems before treatment can be started. Get her back to the Vet today!
CLICK PICTURES TO ENLARGE 🔍
KEROSENE FOR LICE AND MITES
Kerosene was an old remedy to cure head and body lice and other skin conditions caused by mites. Hard to imagine that kerosene was a common treatment. You shudder to think of what could happen.

Therefore, I would advise against using Kerosene as there are better treatments today! Nor would I try to diagnose the skin problem myself even if I had an idea as to what it could be.
USING IVERMECTIN FOR MITES / MANGE
If your vet determines that your dog has Mites (commonly referred to as mange), you can try an anti-parasitic shampoo that is formulated to kill mites, fleas, ticks and the like. But you will probably end up with the problem persisting. I and many kennels use Ivermectin to kill Mites. It is very effective. It is taken internally and is very cheap and cost effective. It will also kill a number of intestinal parasites too.
A WORD OF CAUTION IF USING IVERMECTIN
Ivermectin is a powerful poison. It is used extensively in both the pet and agriculture industries. The one HUGE area of caution: Ivermectin is the active ingredient in many Heart Worm medications. If you have regularly had your dog treated for Heart Worms, then you are not likely to experience a problem using Ivermectin. However, if you haven't treated your dog for Heart Worm, and your dog has an aggressive case, the Ivermectin can cause a massive die off of the worms, which can kill your dog.
IVERMECTIN DOSAGE AND HOW TO ADMINISTER
I originally wanted to tell you the formula on how to calculate how much to use for Mange. Yet on further thought, I am going to recommend that if you plan or using Ivermectin, that you research it extensively and use it only after consulting with your Vet. The amount that is used to treat Mange is about 50 times more than is needed for Heart Worm prevention. At this level, there are some dogs that have the MDR1 mutation that could be killed using Ivermectin. This is one reason to consult your Vet.

Still most kennels and farmers use Ivermectin extensively. It is given orally, even though the packaging suggest that it is "injectable". So it is very easy to administer to the dog. Often times however, it has to be given a number of days in a row to kill all the mites. Read up on it if you are going to use it.
When my dogs have a skin problem, I take them to the Vet. When skin problems persists, I take them back to the Vet or to another Vet for a second opinion. In fact, I spend thousands of dollars a year at the Vet. Anyone that owns a pitbull should be prepared to endure a little expense to keep their pitbull healthy. Keep me posted on Noodles progress please.
FOR FLEAS MANGE OR MITES NOTHING WORKS BETTER
Here is something the vets and chemical manufactures don't want you to know...
DIATOMACEOUS EARTH
Noting works better on fleas, mites or mange or just about any other crawling bug or parasite. Nor is anything safer.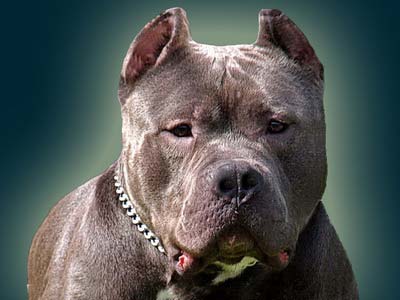 DIATOMACEOUS EARTH!!!!
DIATOMACEOUS EARTH is some sort of Silica rock that easily crumbles into a very fine powder. Under a microscope the particles resemble sharp shards of glass. Small parasites that come in contact with it are killed by having all of their waxy outer-coating rubbed off. They then dehydrate and die. What is amazing, is the fact that it is totally safe for humans and pets. Many people including myself eat it, in order to kill almost any internal parasite.

You simply sprinkle it all over your pet and on his bed and in no time at all, the bugs are gone. People also use this in the house to kill bed bugs and other pest. It is cheap and works incredible.

DIATOMACEOUS EARTH 1000's REVIEWS
CLICK PICTURES TO ENLARGE 🔍
RED MANGE - RINGWORMS - EAR MITES - CUTS & SCRAPES
Just read the reviews on Amazon and you will see why I am so high on
Nu-Stock by Durvet
for treating dog's for a whole host of issues.
I cannot recall who first turned me on to Nu-Stock, as I have been using it for years. I always keep several tubes on hand and almost always (or so it seems) have at least one dog in treatment for some kind of problem.
NU-STOCK CURE FOR SKIN CANCER?
You will not believe how fast cuts heal when Nu-Stock is applied! The bigger the cut the better it works. It works so well, I have often thought about using it on myself. After some research I find that many people do.

I'll illustrate how much confidence I have in Nu-Stock. True story: My 107 year Grandfather moved in with me. He had been receiving treatment for a patch of skin cancer about the size of a nickel on his face. For several years, about every six months the doctor would treat it with a laser (I think it was a laser), but it would continue to return. I put the Nu-Stock on it, and within about three weeks it was healed (or close to it). In any event, it was 99% better.

NU-STOCK OINTMENT
I implore you to consult with your Vet before implementing any opinion on heath I may share on Mr Pitbull. Again; there is no substitute for hands on veterinary care.
MAKE YOUR DOG'S COAT SHINE
If I had to pick one pitbull supplement that I believe would improve the coat of most any dog, I would go with K-9 Power Show Stopper! I have purchased thousands of dollars worth of this supplement. Even though I feed most of my dogs a balanced all raw meat diet, I see a marked improvement in the appearance of the dog's coats and skin when feeding the K9 Show Stopper.

What is nice, it only takes a couple of weeks when feeding K9 Show Stopper to start seeing the results with each dog. A dull coat that sheds excessively is a strong indication that a dog is in need of a good vitamin or supplement. If you are feeding your dog a commercial dog food, no matter how pricey, and not feeding any vitamins or supplements, I would bet you will notice a difference. I know I do with my dogs!

K-9 Power Show Stopper!
SALMON OIL FOR A BEAUTIFUL COAT
It has long been a proven fact that the Omega-3 found in Salmon oil does wonders for a dogs coat. It is also believed that the fatty acids found in Salmon oil has a variety of health benefits for dogs and is a supplement that many top kennels would not do without.

I prefer to buy this is in five gallon buckets, but the quart size is just right for those with one dog and just wanting to see how their dog responds to it. When you read the reviews, you will note that a lot of people love it.
Learn which Vitamins and Supplements to use for your dog's specific needs.