CLICK PICTURES TO ENLARGE 🔍
REMY MARTIN - REMYLINE
With the advent of the Razor's Edge line of Pitbulls, a number of bloodline strains from Razor's Edge have been born. The most popular of these strains is the Remyline bloodline. Remyline Kennels goes by the motto: "One Dog One Line." Here is a brief history of Remyline Kennels. Remyline was founded by Fabian Chichester and is based off of his Razor's Edge dog; "Lowjack's Remy Martin" born in April of 2003 and produced at Ruckus Kennels. Fabian bought Remy at 6 weeks of age for $500 and he had to throw in a treadmill to seal the deal. In 2004 Fabian bred Remy (as he is simply referred to as) to his female Pitbull named Bella. Little did Fabian know; that would be the beginning of a new line of Pitbulls that he would later coin as Remyline.
LOJACK'S REMY MARTIN
As Remy matured, Fabian realized that he had a very special dog. Remy had a look about him like no other dog before him. Blue fawn in color, thick, heavy bone, a magnificent head piece and a profile stare that said; this is one serious dog! Folks in the rapidly growing Pitbull/Bully community fell in love with Remy. It wasn't long before Fabian was approached with requests to use Remy as a stud for a variety of females. Fabian set a price of $2500 for the stud fee and people began to line up for the chance to have Remy sire a litter in the hopes of creating another Remy. Thus Remyline Kennels was born.

Today, over a dozen years later, many kennels are still lining up to have a chance to add Remyline blood to their profile. In a period of just a few short years Remy has become one of the most prolific bred Pitbulls in history with over a thousand registered offspring. Those who are fortunate enough to have Remy in their pedigree proudly identify with the Remyline name.
CLICK PICTURES TO ENLARGE 🔍
REMYLINE FORMULA FOR SUCCESS
What is interesting to note, is the way that Fabian went about building Remyline. Unlike Dave Wilson who used a number of different Pitbulls in which to develop the Razor's Edge line; Fabian used just one dog to create Remyline. Of course, dozens have tried to imitate Fabian success, reasoning that if he could do it with Remyline they could accomplish the same thing with their dog "Spot." What they failed to realize is; to create another Remyline you need two elements; the right dog and marketing know-how. Many have found the path to fame and fortune to be much tougher than they realized. The fact is; no line of Pitbull of the Razor's Edge or Gotti strain has even come close to gaining the recognition that Remyline has achieved.
BECOME A REMYLINE BREEDER
Those who embrace the Remyline name and have adopted the "One Dog One Line" philosophy, enjoy being identified as "Remyliners." A number of times every year, Remyline Kennels sponsors Remyline shows where anyone with a Remyline Pitbull is invited to bring their Remyline Pit to show off and compete for prizes, trophies and to simply have a good time. Of course, the conversation tends to center on who has the top Remyline dog, of which no one seems to agree. One thing for sure, if you have a chance to attend a Remyline show, you will see plenty of awesome Remyline Pitbulls. When you consider that the Remyline blood now runs a half dozen generations deep, there are literally thousands upon thousands of Remyline Pitbulls with Remy Martin in their pedigree.
CLICK PICTURES TO ENLARGE 🔍
REMYLINE PITBULL KENNELS
"No Brag, Just Fact..." Looking at this picture of an amazing Remy Pitbull I am reminded of the often quoted line of Walter Brennan from the western series; 'The Guns of Will Sonnett.' Just take a look at this guy and you will know why I wear a smile on my face. This boy is just flat out awesome! In fact I believe that when he matures he will be the finest pit of any Remy Pitbull Kennels. At Mr Pitbull we have a number of dogs that represent the Remyline. If you know Pit Bulls you are no doubt familiar with Mr Pitbull's Blue Remy, one of the top direct descendant of the Famous Low jack Remy Martin. So too, you will want to take a look at Bartender's half sister Bounceher who also carries the famous Remyline blood.
MR PITBULL TOP REMYLINE KENNEL
Mr Pitbull is proud to be associated with the top Remyline Kennels and to have a number of Remyline Pitbulls. In fact I believe I have some of the top Remyline Pits in the world. And so what would make one Remyline Kennel better than the next? The answer is in the breeding. Just as every artist uses the same tools; some paint, a brush, a canvas, a palette board and an easel; but yet some are able to create a masterpiece while yet others look like they are painting with a rolling pin. Likewise, a good breeder studies not only his bloodlines but understands the relationships between blood strains, generations, and physical bearing.
CLICK PICTURES TO ENLARGE 🔍
THE REMYLINE DIFFERENCE
You might ask; what differs a Remyline Pitbull from other Razor's Edge Pitbulls? Because Remyline is based on Remy Martin and not 20 different dogs, and because Remy tends to throw his look, many are able to identify a Remyline Pitbull at a glance. Remyline Pitbulls tend to have that famous Remy Martin headpiece. Once you know what to look for, you can spot a Remyline Pitbull every time. Take a look at Bartender in the picture above and at Blue Remy in the picture below, and you will see that distinctive look.
MEET A FEW OF OUR REMYLINE PITBULLS
Of course, it goes without saying that Blue Remy (the dog that is pictured above) is a Remyline Pitbull. He is a direct son of Remy Martin. One look at Blue Remy and it is easy to see that he is a descendant of Remy Martin as his "head piece" clearly shows. In addition to Blue Remy we have another Stud named Bartender who is off of Ultimate Blues' Complex; a direct Remy daughter, and Ultimate Blues'; The Bouncer.


CLICK PICTURES TO ENLARGE 🔍
MEET A FEW OF OUR REMYLINE KENNELS FEMALES
Where do I begin? We would be here along time if I were to introduce you to all our Remyline Kennel Females. In the picture above, take note of Ms Heartbreaker. She is off of Blue Remy's sister Demi. Too, I would be amiss if I didn't mention Mr Pitbull's Pearl (picture below). She is off of Bartender and Samoa. Samoa is a Remy Martin granddaughter. Take a look at Pearl and you get an idea of what a Bully bred Remyline Kennel is trying to produce. If you are wanting to purchase a Puppy from America's premier Remyline Kennel - click here:REMYLINE PUPPIES BY MR PITBULL!
REMYLINE KENNELS TRI COLOR PITBULLS
Another one of our females I believe you will enjoy is Venus (picture below). Venus is a Tri-Color Pitbull and is absolutely gorgeous! Whenever I do a breeding, I always hope to produce a tri-color puppy or two. The color combination is striking to say the least. Because Remy Martin is Fawn in color, when he is bred with a Blue color female, sometimes this color combination can produce a Tricolor puppy or two. If a dog is a of Remy blood, sometimes even when two blue dogs are bred tricolor puppies can be produced. One look at Venus and you will see why the color is so popular. SEE HERE... REMYLINE KENNELS' TRI-COLOR VENUS!
CLICK PICTURES TO ENLARGE 🔍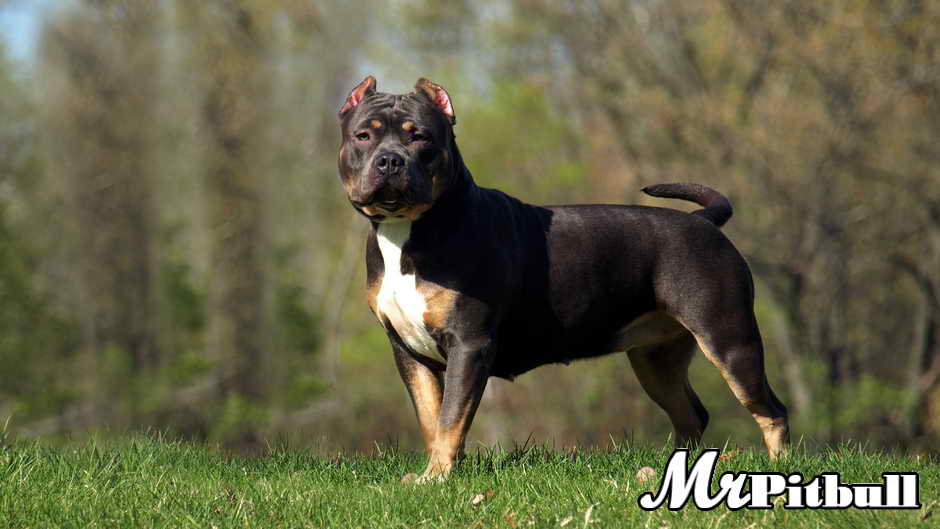 Best Wishes...
---
Best Dog Food Buy On The Planet! #1 selling item in Pet supplies at Amazon
Dogtra Fieldmaster Brand Remote Training Systems
Dogtra 1900S 3/4 Mile Range 1 Dog Training Collar System
PETRAINER COLLAR AT AN AFFORDABLE PRICE
Garmin Sport PRO Bundle Dog Training
Educator E-Collar Remote Dog Training Collar
SUPER FUEL!
Bully Max!
Wild Alaskan Salmon Oil
Dyne High Calorie Dog Supplement
Ultra 24 Multi-Species Milk Replacer
K9-Power Puppy Gold Supplement for Puppies