CLICK PICTURES TO ENLARGE 🔍
POCKET PITBULLS
What is a Pocket Pitbull; you might wonder? A Pocket Pitbull is a bully style Pitbull that is very compact, smaller and shorter in stature. Bandit (picture above) is the foremost example of an incredible Pocket Pitbull. He has a big dog look, yet he is small in comparison to say; Blue Remy, Bartender or Bra'tac. You would never know by looking at his pictures, because of his thick muscular frame, that he is actually a smaller dog. Yet just because a dog is small, does not make him a Pocket Pit. People who live in an apartment or simply want their dog to live indoors, like the advantage of owning a smaller size dog. A Pocket Pitbull combines all of the social attributes of a bully style Pitbull in a smaller package. A winning package for the discreet buyer. POCKET PITBULL PUPPIES AVAILABLE
POCKET PITBULLS ARE AN IDEAL SOLUTION
Pocket Pitbulls have just exploded in popularity. Looking through the pictures of the Pocket size dogs on this page, it is easy to why. Pocket Pitbulls are the ideal solution for those who want a bully style Pitbull yet live in a confined space, like an apartment for example, or have no intention of having an "outside dog", and are looking for a house dog. Of course, they could go with a "lap dog" of some type; and should if they can't spend time outdoors with their dog. Yet, if they want a dog that has a lot more to offer in the way of unquestioned loyalty, and they enjoy spending time in outdoor activities with a dog, then few dogs can compare to a Pocket Pitbull. POCKET PITBULL PUPPIES AVAILABLE
CLICK PICTURES TO ENLARGE 🔍
HISTORY OF POCKET PITBULLS
There is an old saying; "history is told by the victors." Of course depending on who you talk to, you may hear a different version of history. In view of the aforementioned this is the way I remember the beginning of Pocket Pitbulls. In September of 2007 I attended the ABKC Nationals in Detroit, Michigan. At the show was a dog named Merlin, yet was referred to as "The Wizard." He was among the first of the Pocket Pitbulls that I can recall. He looked exactly like a standard American Bully, but much smaller. He appeared like he was simply stunted in growth. I clearly recall that as his owner walked him around the show, everyone wanted to take a look at him. I remember my family wanting to get pictures of him. These few years later, I couldn't tell you what dogs won the show, but I can tell you that Merlin was there.
ABKC CLASS FOR POCKET PITBULLS
At that show there was no class for Pocket Pitbulls, in fact I don't recall seeing another dog that could qualify as one. Yet, apparently I wasn't the only one who was impressed with this Pocket Pitbull. For it wasn't long and all of the sudden it seemed as if everyone was promoting Pocket Pitbulls. Now of course, few if any were like "The Wizard", a smaller version of a standard Bully. Instead it was quite obvious that these smaller size dogs were cross-breeds. Some were clearly using Boston Terriers, and French Bulldogs, while others crossed with English Bull dogs. It wasn't long before there were enough Pocket Pitbulls that a new ABKC class was instituted.
CLICK PICTURES TO ENLARGE 🔍
SAMURAI PACO THE GRANDFATHER OF POCKET PITBULLS
Now the foregoing is not to say that there weren't other important factors in the development of Pocket Pitbulls. At that same show, Marco Suarez of Suarez Bulls Kennels had a stable of dogs competing. And if anyone is deserving of the title of father of the Pocket Pitbull it would no doubt be him. His dog "Samurai Paco" the first ABKC Champion and then Grand Champion was a dog of smaller size competing and winning against dogs much bigger than he. Marco did a superb job of producing one dog after another off Paco, that soon began to define what Pocket Pitbulls should be. Looking at Paco standing in the winners circle with the blue ribbon around his neck and seeing dogs nearly twice his size (a slight hyperbole) standing on both sides of him, it soon became apparent that a new ABKC class was in order to accommodate the growing interest in Pocket Pitbulls.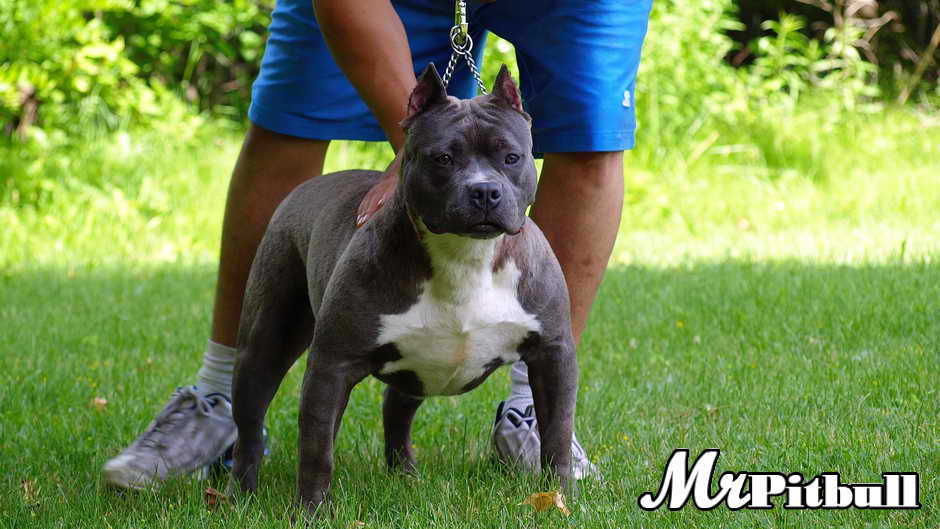 ABKC POCKET PITBULL STANDARD
A true Pocket Pitbull of champion quality, carries a very compact frame. You will note in the picture above that Ms Heartbreaker has a very short back from front to rear. This is an essential feature for a Pocket Pitbull. The standard in the ABKC for a Pocket Pitbull is simple. A Pocket Pitbull is defined as a standard American Bully, simply shorter in height. Male Pocket Pitbulls are defined as being between 14"-17" in height at the withers whereas Female Pocket Pitbulls are defined as being between 13"-16" at the withers.
CLICK PICTURES TO ENLARGE 🔍
CHAMPION QUALITY POCKET PITS AT MR PITBULL
Because of the popularity of the smaller size Pocket Pitbull, a lot of people try to breed them by introducing various other dog breeds into the mix. Of course doing so, generally involves what is referred to as "hanging paper"; which means forging illegitimate papers. In other words; lying as to the mother or father of the puppies. Of course, anyone with half a brain can clearly see the charade when the paperwork identifies two Pitbulls but the puppy clearly looks like a cross between a Pitbull and an English Bull Dog. For whatever reason, it seems that everyone turns a blind eye to the practice. Of course every breed of dog is someone's efforts of crossing one breed with another. Yet the sad part is when you see dogs of such bred by amateurs with bowed legs, splayed toes and feet that point anyway but straight. Of course professional Pocket Pitbull breeders either cull such or make sure they are spayed and neutered. Likewise a professional breeder would be embarrassed to show such a dog. But the unschooled believe they have created something special.
POCKET PIT KENNELS
Mr Pitbull is world renowned and we enjoy the reputation of having one of the top Pocket Pit Kennels in the country. One appealing aspect that many like about Pitbulls is that they come in a variety of shapes and sizes. Of course if you are looking for a dog that fits in a purse, you will have to look elsewhere. But if you want a slightly smaller size Pocket Pit, we've got you covered. If you are looking for a big boy like Bartender or for a Pocket Pit, give me a call. Of course, why you are here, enjoy looking at some pictures of our dogs. If you want more information on to start your own Pocket Pit Kennel, you will want to take a look at what we have on this page - click here:START YOUR OWN KENNEL!
CLICK PICTURES TO ENLARGE 🔍
THE POCKET PIT MAY BE THE PERFECT FAMILY DOG
It would be easy to assume that anyone looking to purchase a Pit Bull would be looking to make a statement. This is generally true of the youthful male who wants a dog that could be his ultra-ego. The bigger the better is generally the rule in this case. Therefore, it may come as a surprise to many as to why the smaller bred Pocket Pits have become so popular. The fact is, the youthful male makes up only a fraction of those looking to add a Pitbull to their family. As people have become more acquainted with the breed, and have seen the Pit Bull's loving disposition, more and more families are choosing Pit Bulls as a house dog and to become a family member. For many the Pocket Pit fits right into that scenario perfectly. If you are wanting to purchase a Pocket Pitbull from America's premier Pocket Pit Kennel - click here:POCKET PITBULLS BY MR PITBULL!
CLICK PICTURES TO ENLARGE 🔍
Best Wishes...
---
Best Dog Food Buy On The Planet! #1 selling item in Pet supplies at Amazon
Dogtra Fieldmaster Brand Remote Training Systems
Dogtra 1900S 3/4 Mile Range 1 Dog Training Collar System
PETRAINER COLLAR AT AN AFFORDABLE PRICE
Garmin Sport PRO Bundle Dog Training
Educator E-Collar Remote Dog Training Collar
SUPER FUEL!
Bully Max!
Wild Alaskan Salmon Oil
Dyne High Calorie Dog Supplement
Ultra 24 Multi-Species Milk Replacer
K9-Power Puppy Gold Supplement for Puppies